---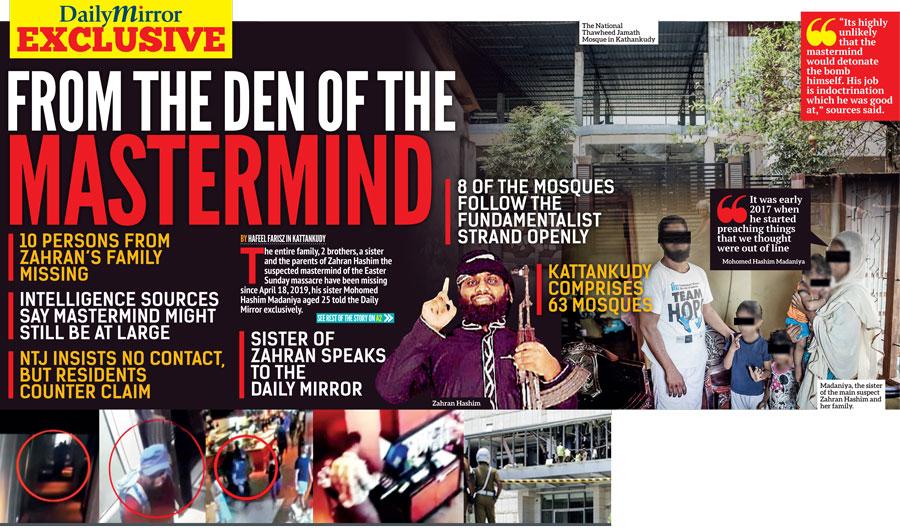 By Hafeel Farisz in Kattankudy
Pix by Chris Weiner
The entire family, 2 brothers, a sister and the parents of Zahran Hashim the suspected mastermind of the Easter Sunday massacre have been missing since April 18, 2019, his sister Mohomed Hashim Madaniya aged 25 told the Daily Mirror exclusively.
" I went and gave food to my parents and my sisters family on April 18, and haven't heard from them since" she told us, at her house in Kattankudy located around the mosque of National Thawheed Jamath in Kattankudy.
Providing exclusive access and details of a chilling tail of radicalization of which the sister insists she had been against, and members of the mosque completely dissociating themself with, the Daily Mirror was told that Hashim was a gifted orator and a loving family man until his "sudden disappearance"
The family included five children with Zahran Hashim being the oldest (33) he is married to Mohomed Haadiya (23) a resident of Kekenuwella, Kurunegala and is the father of two children aged a boy aged eight and a girl aged four.
His brother Mohomed Zeyin Hashim (30) is married to Abdul Gafoor Afrin (23) and has two children a boy aged 5 and a girl aged 3. The third was Mohomed Rilwan Hashim (28) Nafha (20) and is the father of two children aged 5 years and the other a six month old boy.
The remaining sister Mohomed Yaseera Hashim (20) was married to Mohomed Rishad (22) and is the mother of a boy aged one year, all of whom have left without a trace.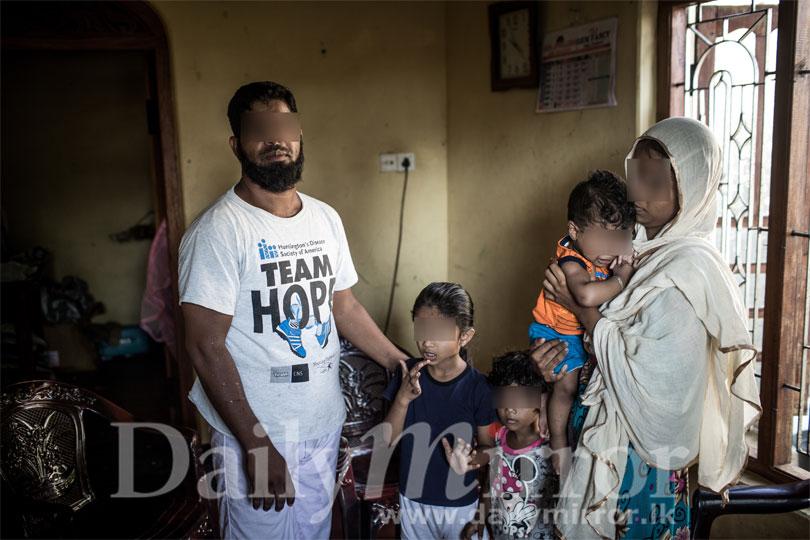 "I don't know where they are. From the 18th onwards I have had no contact with them" she told us.
Accordingly all the family members including the parents of Zahran, Hayath Mohomed Hashim (55) and Abdul Cader Sameema ( 50) have left no trace of their whereabouts since April 18th.
" It was early 2017 when he started preaching things that we thought were out of line. They were things like the world was made for Muslims and was against other religions" she said.
" My husband didn't like what he was saying so we stopped our connections with him. That didn't mean we were angry, its just that we stopped following him" the mother of three said.
On March 10, 2017 following an armed fight between moderate Sufi groups and those following the new mosque and denomination propagated by Zahran, he had reportedly " gone missing".
" we didn't hear from him after. He together with his brother Rilwan completely lost contact with all of us" Moulavi Thawufeek (33) the Head of the National Thawheed Jamath told Daily Mirror.
The National Thawheed Jamath was a denomination originated by Zahran in or around 2011.
Katankudy a small area of land with one of the highest density of population comprises 63 mosques. 8 of the mosques follow the Fundamentalist strand openly and the other barring 3 mosques follow "different degrees of wahabist ideology" H. M Ameer from the Badriya Mosque told the Daily Mirror. "The Jammiyathul Ulama are also supporters of the Wahabi ideology" he and Jaseem told the Daily Mirror.
The incident culminating in violence on March 10, 2017 was a result of rift between the Badriya Mosque followers of the Sufi Ideology and the religious strand that Hashim propogated.
"There was a meeting to be held at the Aliya Junction at which Zahran was to speak when the violence broke out" both parties said, after which differing accounts were narrated as to what took place.
Nine persons from Zahran's, National Thawheed Jamath were arrested by the Police and Two from the Badriya Mosque. The arrests included Zahran's brother Zeyin. The suspects had been remanded for over 7 months according to one of the suspects Mohomed Rifaz (32).
Speaking to the Daily Mirror at the two storied mosque of which one storey is yet to be completed, Rifaz said Zahran "went missing" after the Police came after him.
"We didn't know of his whereabouts till he started posting videos on Facebook around June 2017" the Daily Mirror were told by the members of the NTJ. "We completely disassociated ourselves from him after we saw his videos" they told us after which they showed the Daily Mirror a letter which had been issued by the Mosque expelling Zahran from the mosque.
The fact that the Mosque was a small non sophisticated one with no approval nor accounting books issuing a letter of "expulsion" could not be lost.
"That is a complete lie. We have information that he visited the mosque around six weeks ago," Ameer from the Badriya mosque insisted. "We had informed authorities of him starting in 2012. We in fact gave dockets to 11 authorities including the Secretary of Defence, the Inspector General and the Attorney General detailing the extremism carried out by Zahran and his ideology," Ameer told the Daily Mirror. "They all fell on deaf ears," Mohomed Jaseem a trustee said.
Ameer and Jaseem both showed the Daily Mirror the docket which they provided to the authorities on March 27, 2017. The docket details the hatred espoused by Zahran, and contradicts the version of the NTJ that the radicalisation took place after he fled from the police.
The complaint includes preachings by Zahran to the effect that Islam should be the only religion in the island,and that Muslims should not pledge allegiance to the country.
" We gave this to the authorities in black and white. We told them that these guys were preaching some crazy radicalised fundamentalism and that there is a threat to our lives. We did this from as far back as 2012" Jaseem told the Daily Mirror.
According to those at the National Thawheed Jamath mosque, Zahran had single handedly originated a new denomination and built a mosque through donations given by those attending "Jumma prayers" an account rubbished by Ameer.
"They opened a new mosque because they got funds from foreign entities. They couldn't be with the other fundamentalists because the money wasn't coming in," Jaseem told us.
The members of the NTJ however, insist that up until his fleeing from the Police following the clashes on March 10, 2017 Zahran was a peaceful preacher.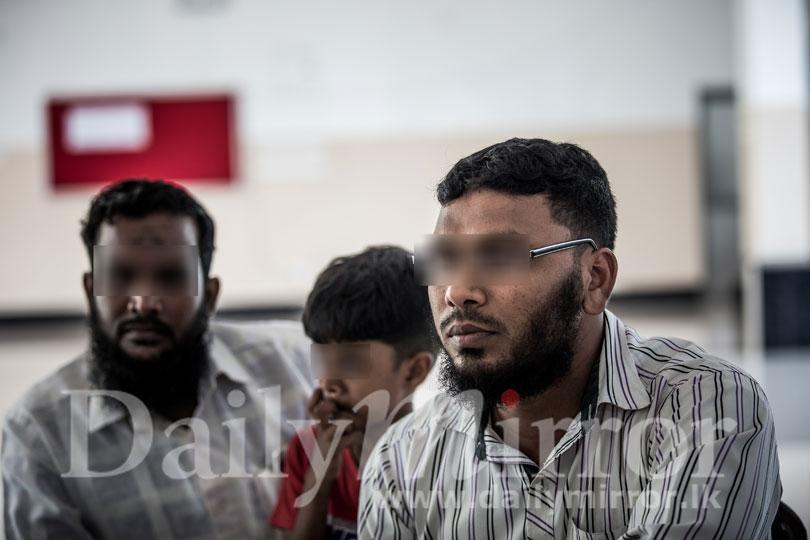 "We did a lot of charity work and we followed Islam how it should be," they told us adding that it was following his postings in June 2017 that they realized Zahran had deviated from their path. However, according to the sister Madaniya his radical preaching commenced before.
"He had just stared to preach things against the Government, against courts, and against other religions. He may have had 2 to 3 sermons like that when the clash took place in March," she told us, refuting the "underground radicalization" claim of the NTJ members.
Zahran had preached from time to time during the Five years commencing 2012 to 2017 at various "junctions". By all accounts he was a preacher who could hold a crowd. "Around 2000 to 3000 people participated at his public sermons although they didn't go to his mosque," we were told.
"I met Zeyin and his Family last around February," Madaniya told the Daily Mirror. She claims to have had no contact with Rilwan who had also fled together with his brother Zahran following the clashes of March 10, 2017.
Intelligence sources claim that Zahran may not have been one of the bombers as they scramble to make distinct identification of them. Zahran and his family accordingly may still be at large.
"I fear for my safety. We live under a lot of tension," Madaniya said. "Its unbearable to know what has happened. I don't want to have anything to do with him and hope he is dead," she told the Daily Mirror.
When asked as to what she believes is the reason her immediate family have been untraceable she said she assumed the worst.
" They must have joined him. They never spoke to me about him because they knew my husband didn't like him. I am the only one who has to take on all of this blame and suffering now. I don't want to have anything to do with any of them," she said after being asked of the alternative of the family being alive.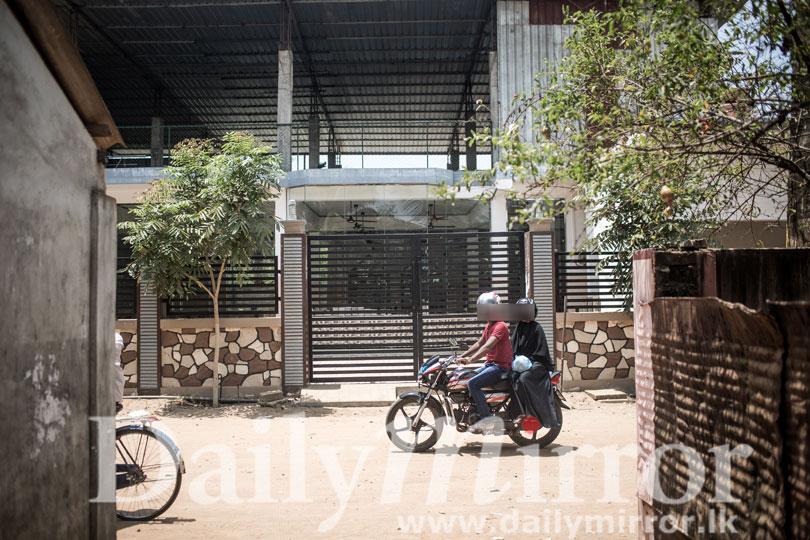 Moulavi Thawufeek insisted that the actions have "got nothing to do with religion". " These are despicable acts and have got nothing to do with religon" he said after quoting the Quranic verse stating that the "killing of a single man meant the killing of humanity".
Thawufeek who succeeded Zahran had known the suspected mastermind since 2002. "I knew him from the time he was reading at the Al- Falah Madrasa. He couldn't complete his studies and had to leave in 2007".
Thawufeek together with the rest present in the mosque insisted that they had not watched the vidoes of Hashim following the realization of his radicalization.
"Yes he was an ISIS sympathizer and we were told of it by people. But we didn't watch his videos" they said.
According to Moulavi Thawfueek, Intelligence Agencies were fully aware of Zahran and his preaching.
" During the past two years they used to visit the mosque at least once a week if not more. They were here a few weeks ago too" he said, sentiments concurred by the rest of the gathering.
When asked as to if he had followers of his doctrine amongst them, he said that they could not be certain.
"What you have in your heart only you would know. Even if people were supporters of ISIS they wouldn't come out openly and tell us," he said.
Carrying her 10 month old son, Madaniya said she fears for her safety, sentiments echoed by the members of the NTJ too.
" Im the only one from the family and its alot of heartbreak and suffering" she said.
Moulavi Thawufeek also insisted that they remained fearful.
" The forces walk in and out every other day and we might not be able to practice our religion. We are fearful that this mosque we built with so much hardship will be brought down. We are also living under a lot of tension and we want our side of the story told" he said.
Ameer and Jaseem of the Badriya mosque were also fearful of theirs.
" We were the only people who stood up against this fundamentalist and we fear for our lives. They will come after us" they said.
---
---
One of the nine bombers that detonated explosives on Easter Sunday was a woman, State Minister of Defence Ruwan Wijewardene has said on Wednesday.
Straits Times said the state minister's comment came after police confirmed that nine suicide bombers were involved in the blasts and eight have been identified.
It has been revealed that one of the suicide bombers had studied in Britain and Australia, it said.
---
New Zealand's Prime Minister Jacinda Ardern today said that they were not aware of any intelligence suggesting that Easter Sunday attack in Sri Lanka was in retaliation for deadly shootings on a mosques in Christchurch, Reuters reported.
State Minister of Defence, Ruwan Wijewardene, told parliament on Tuesday that an initial investigation had revealed the bombings on churches and hotels, which killed 321 people, had been carried out in revenge for deadly shootings in two New Zealand mosques on March 15.
Security experts and analysts, however, have questioned whether the coordinated bomb attacks could have been planned in such a short period.
"We haven't received anything officially nor have we received any intelligence reports that corroborate what has been said in Sri Lanka," PM Ardern told reporters at a press conference in Auckland.
"Sri Lanka will be in the very early stages of its investigations. So we are simply stepping back and allowing them to undertake those, but we have nothing at this stage to corroborate what is being said," she added.
Islamic State (IS) claimed responsibility for the Sri Lanka attacks on Tuesday and named what it said were seven attackers who carried them out. It gave no further evidence to support its claim of responsibility.
Prime Minister Ranil Wickremesinghe told a news conference investigators were making progress in identifying the perpetrators and believed there could be some links to IS.
---
Islamic state has claimed responsibility for coordinated bombings in Sri Lanka which killed 321 people and injured about 500 others, the group's AMAQ news agency said on Tuesday. (Reuters)
---
---
Mass for victims
People carry a casket during a mass for victims, two days after a string of suicide bomb attacks on churches and luxury hotels across the island on Easter Sunday, in Negombo (Reuters)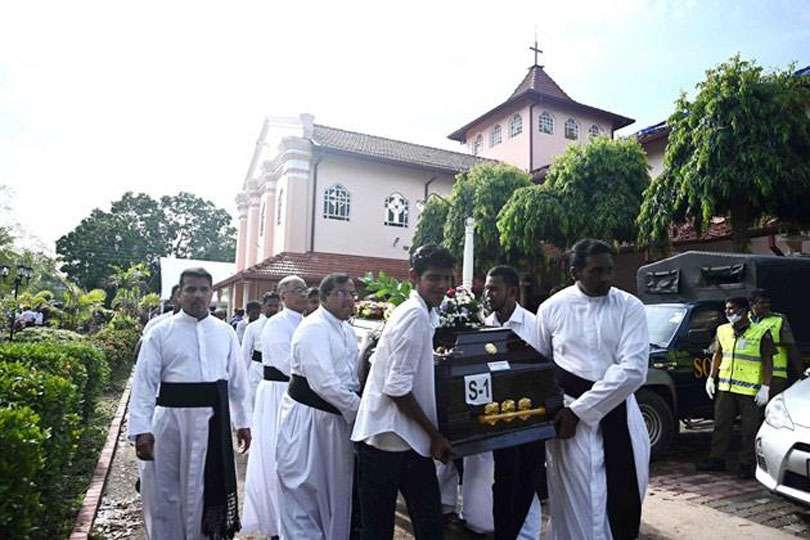 ---
---
Explosive device disposed at Kochchikade
An improvised explosive device was detected inside a vehicle near the St. Anthony's Church, Jampettah Road, Kochchikade, and was disposed in controlled explosion at site by the Bomb Disposal Unit today.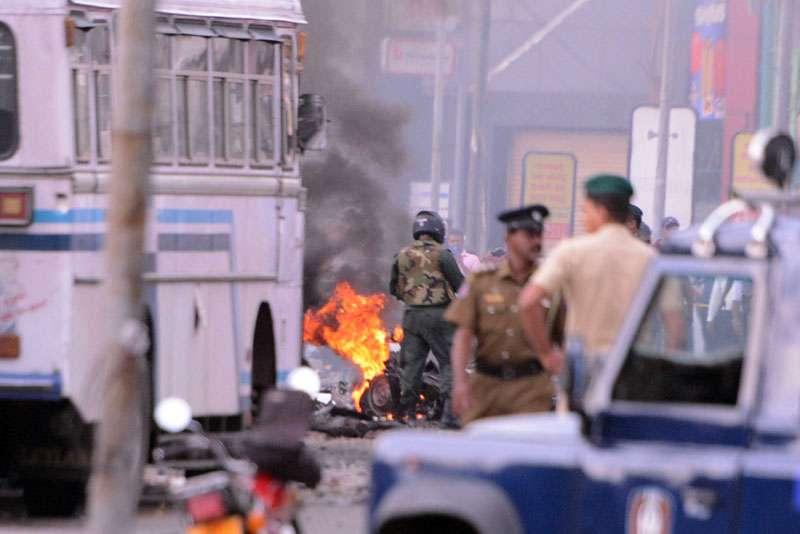 23 April 2019 08:25 am
Death toll rises to 310
The death toll from the Easter Sunday terror attacks has increased to 310 by this morning with 500 people have been injured, Police Spokesman Ruwan Gunasekara said.
---
---
22 April 2019 08:42 pm
Controlled explosion
An improvised explosive device was detected inside a vehicle near the St. Anthony's Church, Jampettah Road, Kochchikade, and was disposed in controlled explosion at site by the Bomb Disposal Unit today.
---
---
22 April 2019 07:03 pm
INTERPOL deploys team to SL to support investigations
INTERPOL is deploying a team to Sri Lanka to assist the national authorities investigating the series of bomb attacks at churches and hotels which left nearly 300 dead and some 500 injured.
Checks are already being made against the Organization's Stolen and Lost Travel Documents and nominal databases in order to identify potential investigative leads and international connections.
Deployed at the request of the Sri Lankan authorities, the Incident Response Team (IRT) will include specialists with expertise in crime scene examination, explosives, counter-terrorism, disaster victim identification and analysis.
---
---
22 April 2019 05:55 pm
Will not allow such a situation to take place again : Prez assures to Cardinal
President Maithripala Sirisena said the Government would not allow such a devastating situation to take place in future and it is taking every step to avert such a situation. He expressed these views when he met with Archbishop of Colombo, Malcolm Cardinal Ranjith at the Archbishop house today.
While condoling with the victims who faced the tragedy, the President expressed his deepest sympathies to the Catholics who were injured or lost their loved ones on Easter Sunday.
He also discussed with the Cardinal the steps taken in the face of this tragic situation.
---
---
22 April 2019 04:23 pm
Explosive device disposed in Kochchikade
An improvised explosive device was detected inside a van near the St. Anthony's Church, Jampettah Road, Kochchikade, and was disposed in controlled explosion at the site by the Bomb Disposal Unit a short while ago, reporters said.
The van is reportedly on fire.
---
---
22 April 2019 03:42 pm
ISIS fanatics celebrate SL attacks
Islamic State supporters are celebrating the Sri Lanka suicide bombings which killed 290 people on Easter Sunday and left around another 500 injured, Daily Mail Online reported.
The SITE Intelligence Group, which tracks extremist activity online, said ISIS fanatics were praising the terror attacks as revenge for the Christchurch mosques shooting.
No group has officially claimed responsibility for the blasts at five-star hotels and churches but Sri Lankan police say a previously unknown Muslim extremist group were the subject of an intelligence warning ten days before.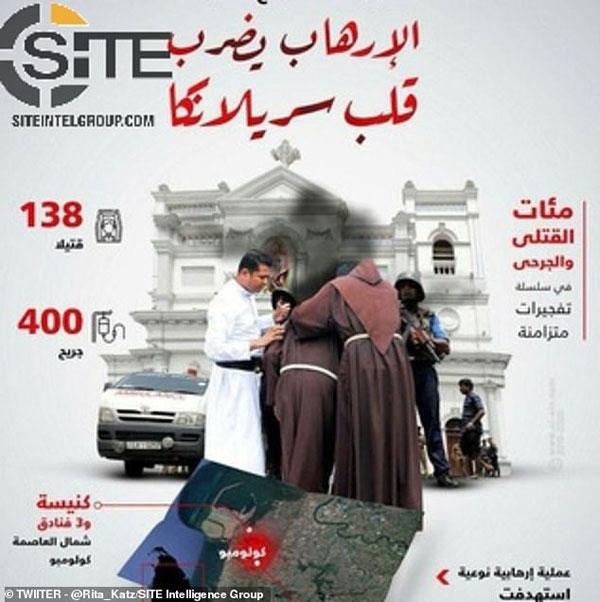 ---
---
22 April 2019 03:21 pm
Shangri-La suicide bomber identified
The police today informed Colombo Chef Magistrate's Court that the suicide bomber of the Shangri-La hotel had been identified as Insan Seelavan and owned a factory in Avissawella- Wellampitiya road.
Nine employees of the said factory were arrested by the Wellampitiya Police and were remanded till May 6 after being produced in the Colombo Chief Magistrate's Court.
The Police also informed the court that the suicide bomber was suspected to have links with other suicide killers died in the Dematagoda blast.
---
---
22 April 2019 02:29 pm
Tomorrow declared a national day of mourning
The government has declared tomorrow as a national day of mourning, President's Media Division (PMD) said.
In a statement, it said the decision was taken at the national security council which convened under the chair of President Maithripala Sirisena this morning.
"The President announced the declaration of April 23 as the day of national mourning for the victims of ruthless terrorist attacks at churches and hotels in the country on April 21," it said.
---
---
22 April 2019 12:54 pm
Police curfew from 8.00 pm to 4.00 am
The police curfew will be imposed across the island from 8.00 pm tonight to 4.00 am tomorrow, the government announced today.
---
---
22 April 2019 12:09 pm
Govt analyst confirms suicide bombers carried out all attacks
The Government Analyst today confirmed that yesterday's attacks on three churches and three hotels were carried out by suicide bombers.
"All the attacks were carried out by suicide bombers," Government Analyst A. Welianga told the Daily Mirror.
---
---
22 April 2019 10:42 am
Ministry requests JMOs to speed up post-mortems
The Justice Ministry today requested the Judicial Medical Officers (JMO) to visit the hospitals and speed up the post mortem investigations of the people who were killed in suicide bomb attacks yesterday.
In a statement, the ministry said the bodies should be immediately returned to the families who lost their loved ones.
"Therefore, we request the JMOs to visit the hospitals where the bodies have been placed and conduct relevant investigations," the ministry said.
---
---
22 April 2019 04:15 am
President returns
President Maithripala Sirisena arrived in the country last night after concluding his private visit to Singapore and India.
President Sirisena left for India on April 16 and visited the Lord Venkateswara Temple at Tirumala and offer prayers.
---
---
22 April 2019 01:16 am
Intelligence failures, soft-peddling envelopes deadliest suicide attacks in SL
Two men checked into the Shangri-La which now takes pride of place in the heart of the city on April 20, 2019. They had provided an address in Dematagoda when checking in. Close to 9 a.m. yesterday (April 21) the duo detonated two bombs. One at the packed restaurant cum cafeteria on the 3rd floor of the super luxurious hotel, at which many families had come to indulge in a scrumptious Easter Breakfast, and the next on the corridor of the same floor close to the elevators- not too far from each other. The two explosions rocked the Hotel, with the death toll yet unconfirmed.
This was after the twin explosions at two revered Churches, in Kochchikade and Katana were reported.
The first explosion was at the revered church of St Anthony's, just outside the city after which the second at the Katuwapitiya Church.
The bombings at the city hotels took place right after. A few minutes after, a massive explosion was reported from the Zion Church in Batticaloa. Police Spokesperson SP Ruwan Gunasekara failed to give specific times.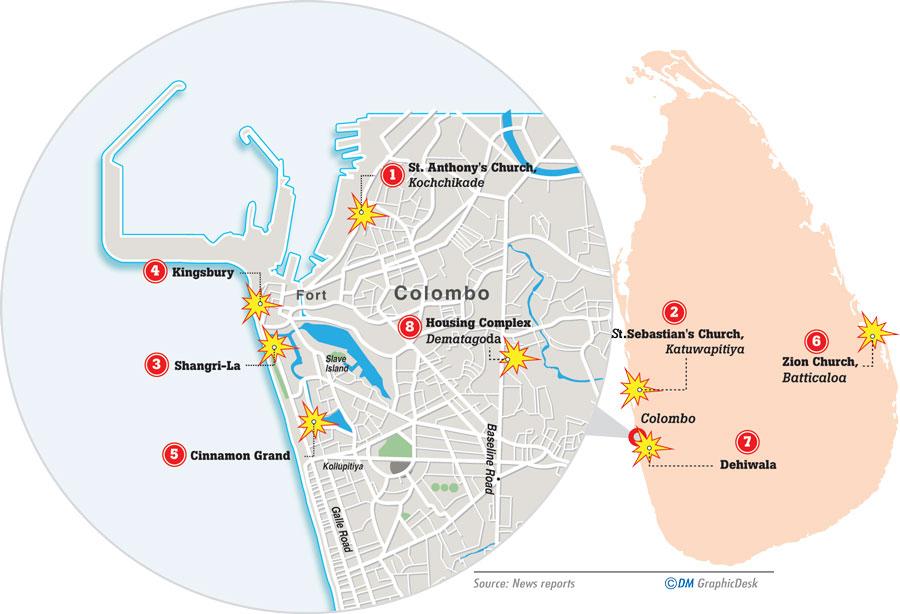 ---
---
22 April 2019 12:47 am
Jamiyyathul Ulama condemns attacks
The All Ceylon Jamiyyathul Ulama (ACJU) yesterday vehemently condemned the terrorist attack on churches and other places while Christian brothers and sisters were celebrating Easter.
Issuing a statement, the President of the ACJU Mufti M.I.M Rizwe said, "this is a shameful and heinous act which no human being can tolerate for any reason. Though the attacks were carried out on a day holy to a particular religious community, it is a very sad day for all Sri Lankans."
On behalf of all Sri Lankan Muslims, we the All Ceylon Jamiyyathul Ulama, extend our arms of solidarity, love and affection towards our Christian brothers and sisters at this moment of grief.
We urge the authorities to assure that all places of worship are adequately protected immediately, and to ensure that the perpetrators of these crimes are brought to justice without delay.
We urge all Sri Lankans, especially the Muslim community including trustees of mosques, to do all that is necessary to support the affected communities by facilitating donation of blood, helping the injured, providing psychological support and making them feel safe and secure.
We appeal to all religious and civil leaders to join hands in rightly guiding the people of their respective areas to prevent communal conflicts, and also to the public to refrain from spreading rumours through different forms of media.
At this moment of great tragedy, let us all join together in solidarity and face the challenges with mutual love and respect to move forward as Sri Lankans. We pray to Almighty Allah that He eases the pain of all who were affected and grant His mercy to them.
Let us all be together in this, and help and support each other in this time of grief and pray that we overcome this tragedy as Sri Lankans, "it added.
---
---
22 April 2019 12:08 am
Eiffel Tower goes dark to pay tribute to SL victims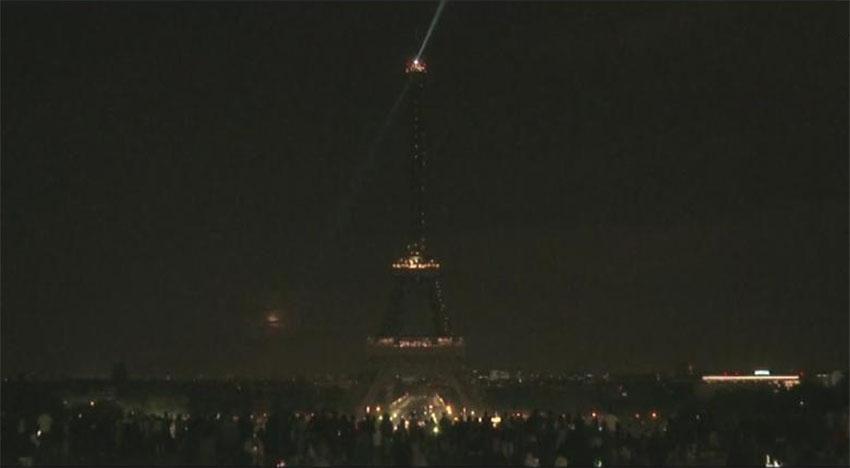 The Eiffel Tower in Paris, France is to turn off its lights to pay tribute to the victims of terror attacks in Sri Lanka.
"Tonight, from 12:00 am, I will turn my lights off to pay tribute to the victims of the Sri Lanka attacks," the official Twitter account of the Eiffel Tower stated.
---
---
21 April 2019 11:50 pm
Explosive device disposed at BIA
An improvised explosive device was detected near the Bandaranaike International Airport (BIA), and was disposed in controlled explosion at site by the Sri Lanka Air Force (SLAF) personnel a short while ago.
---
---
22 April 2019 12:09 pm
Pope condemns attacks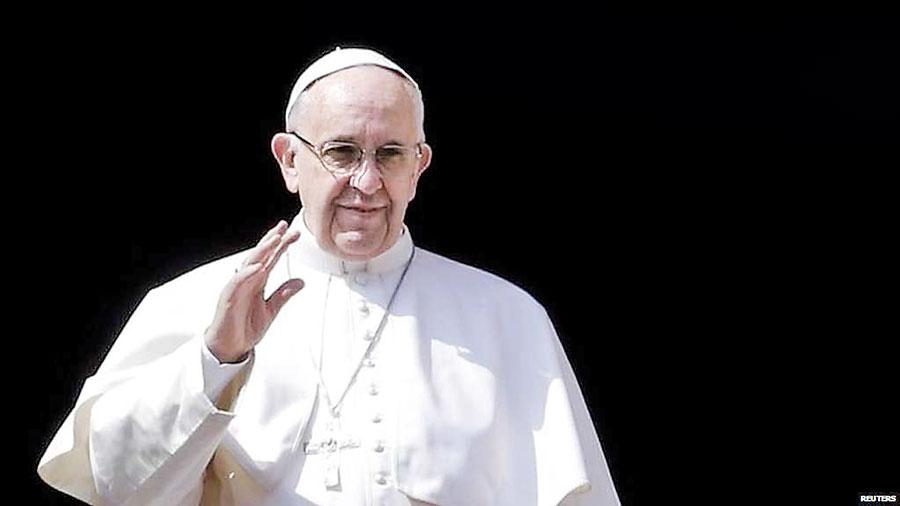 Pope Francis condemned Easter Sunday attacks in Sri Lanka and said that he would be praying for all those who were suffering from the bloodshed, agency reports which quoted the Vatican said yesterday.
Pope Francis appealed for prayers for those who were affected by the blasts in Sri Lanka at the end of his traditional Easter Sunday blessing.
Speaking from the loggia of St. Peter's Basilica, Francis said:
"I want to express my loving closeness to the Christian community, targeted while they were gathered in prayer and all the victims of such cruel violence."
"I entrust to the Lord all those who were tragically killed and pray for the injured and all those who are suffering as a result of this dramatic event," he added.
---
---
21 April 2019 10:33 pm
Minute's silence at the Santiago Bernabéu
The Santiago Bernabéu held a minute's silence before the LaLiga match week 33 fixture between Real Madrid and Athletic Bilbao, for the victims of the attacks in Sri Lanka and in memory of Agustín Herrerín, who was Real Madrid's pitch delegate for more than 18 seasons and who died last Thursday.
The Whites' players wore black armbands and in the stands a banner was displayed which read: "Herrerín, exemplary Madridista, rest in peace". (Realmadrid)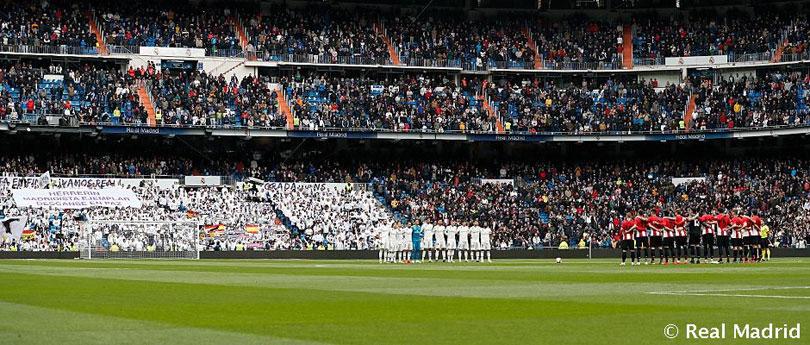 ---
---
21 April 2019 09:40 pm
Special investigation panel to probe terror attack
President Maithripala Sirisena will appoint a special investigation panel within the next 24 hours to ascertain information on the national tragedy, which claimed so many lives, Presidential Secretariat said.
The panel is expected to file a report within two weeks.
The Presidential Secretariat said in a statement that the panel would be headed by a Supreme Court judge and would investigate matters related to the blasts, the background and other factors connected to the incidents.
---
---
21 April 2019 08:21 pm
Outraged by terror attacks: UN Chief
UN Secretary-General Antonio Guterres said he is outraged by the terrorist attacks on churches and hotels in Sri Lanka on Easter Sunday, a sacred day for Christians around the world.
In a statement, his office said the UN Chief recalled the sanctity of all places of worship.
"He hopes the perpetrators will be swiftly brought to justice. The Secretary-General expresses his deepest condolences to the families of the victims, the people and the Government of Sri Lanka, and wishes a speedy recovery to the injured. He commends the leadership demonstrated by the authorities and unity of the people of Sri Lanka in the wake of the attacks," it said.
The Secretary-General reiterates the support and solidarity of the United Nations with the people and the Government of Sri Lanka in this difficult moment for the nation.
Meanwhile, the United Nations in Sri Lanka said it strongly condemns the attacks against civilians carried out in places of worship and city hotels on Easter Sunday.
"The United Nations in Sri Lanka expresses its heartfelt condolences to the families and victims as well as the Government and people of Sri Lanka and wishes a speedy recovery to those injured.
Attacks such as these are aimed at undermining the unity of the people of Sri Lanka, the United Nations urges authorities, and all citizens to ensure that the rule of law is upheld, human rights are protected, and security and safety is ensured for all," the UN office said.
---
---
21 April 2019 07:53 pm
Van allegedly used for terror attacks found
A van allegedly used to transport suspects and explosives to Colombo was taken into custody with its driver in Wellawatte this evening, police said.
Meanwhile, the police have also found a house where several suspects alleged to have been staying at Sarikkamulla in Panadura North.
---
---
21 April 2019 07:52 pm
Special Operation Centre at police headquarters
A Special Operation Centre has been established at the police headquarters from today (21) to facilitate the people, Police said.
People can contact the centre on:
011-3024873
011-3024883
0112-2013039
Fax number: 011-2430912
---
---
---
22 April 2019 10:45 am
In pictures
Batticaloa church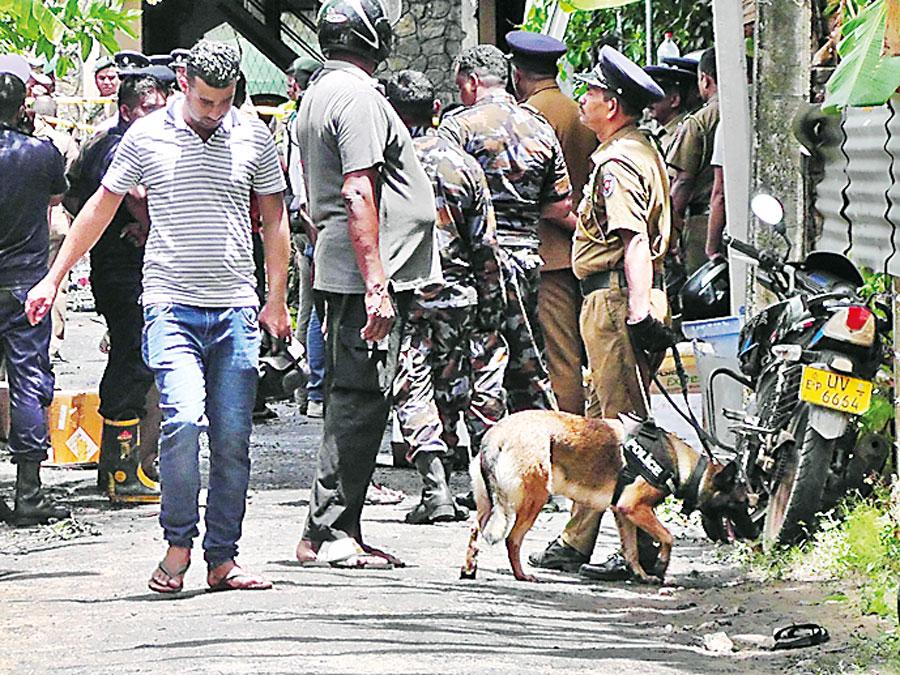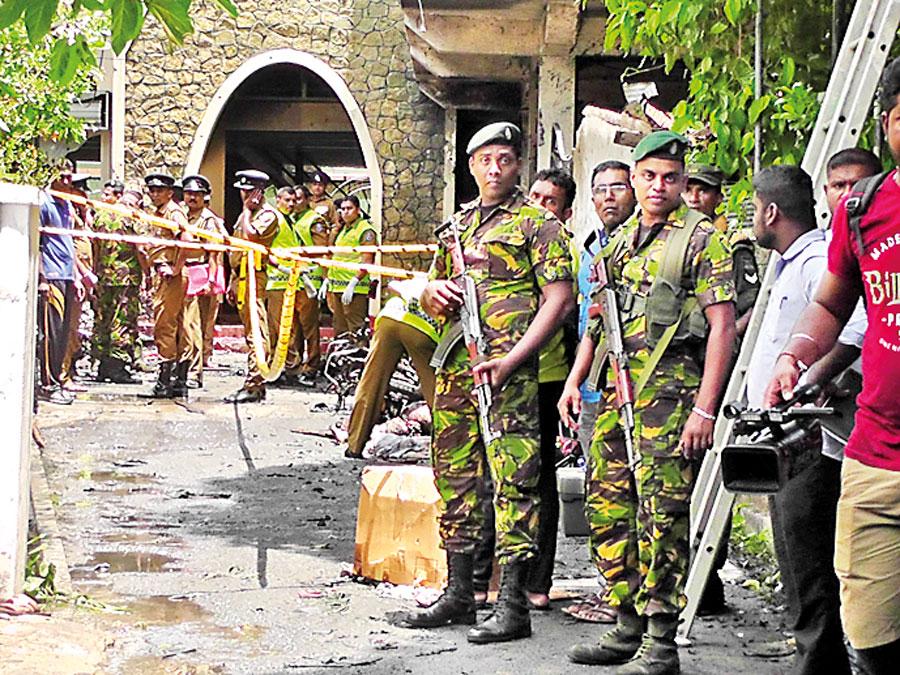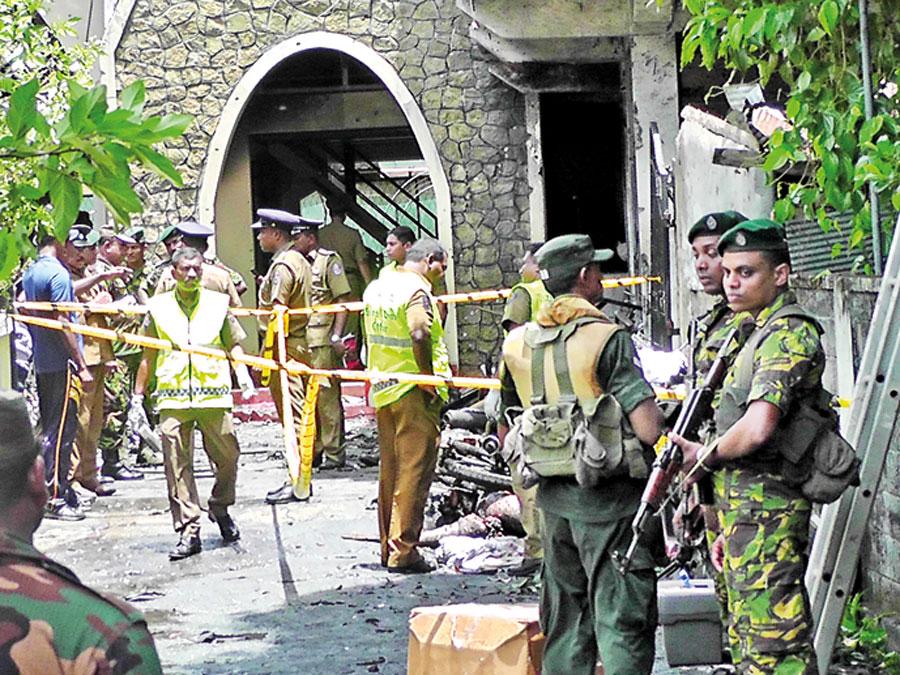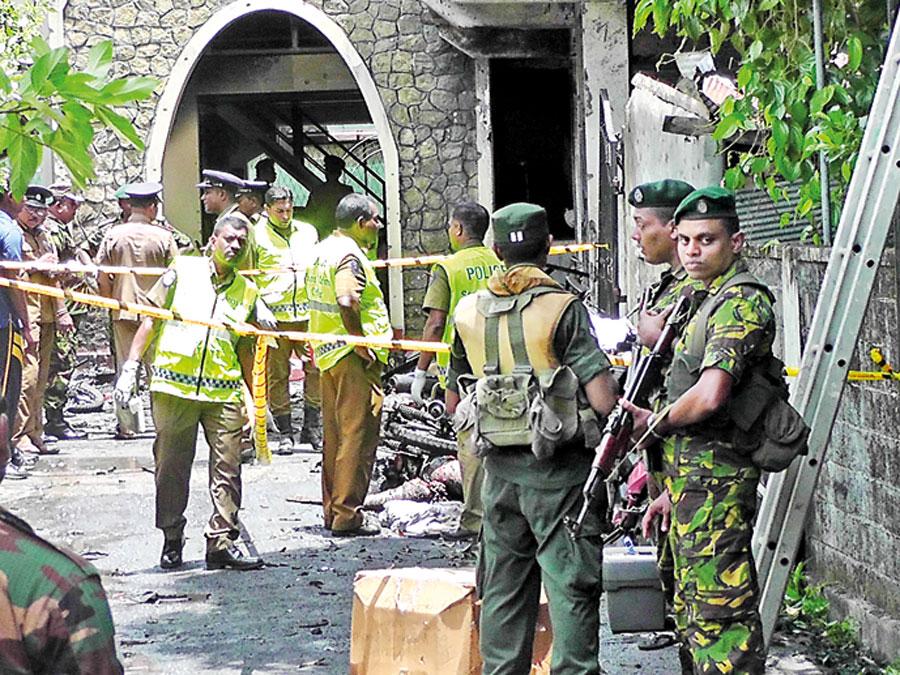 ---
Kochchikade Church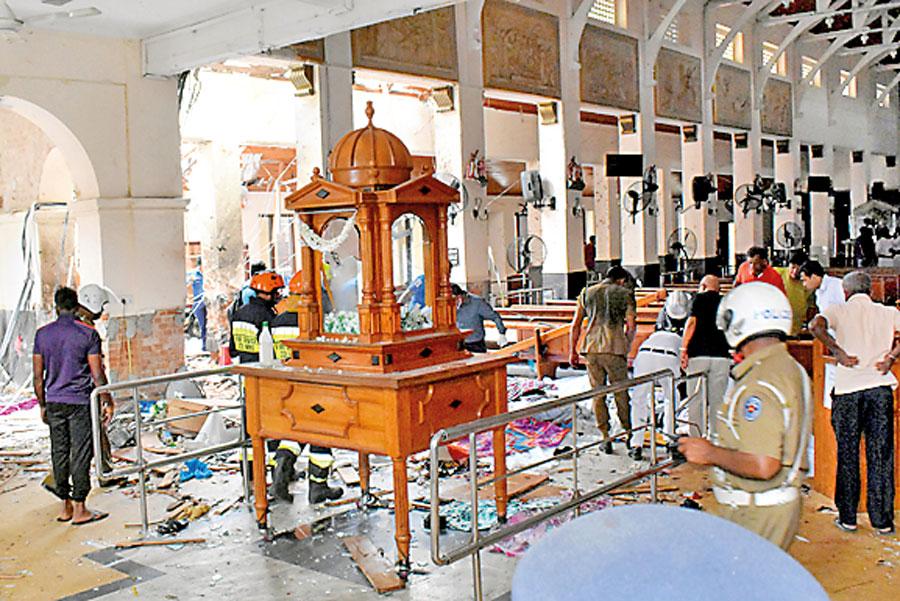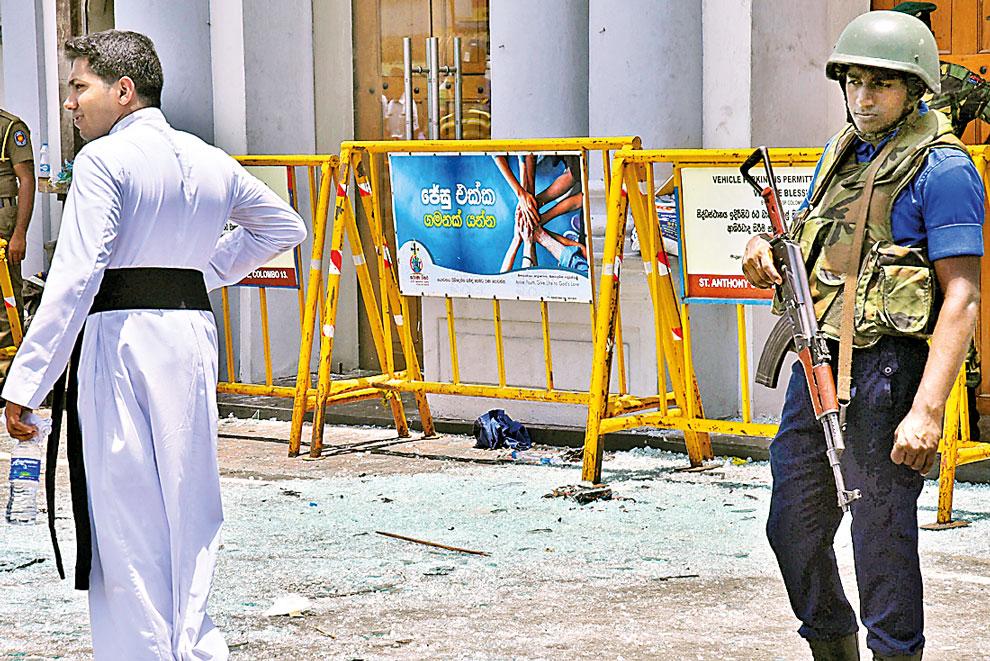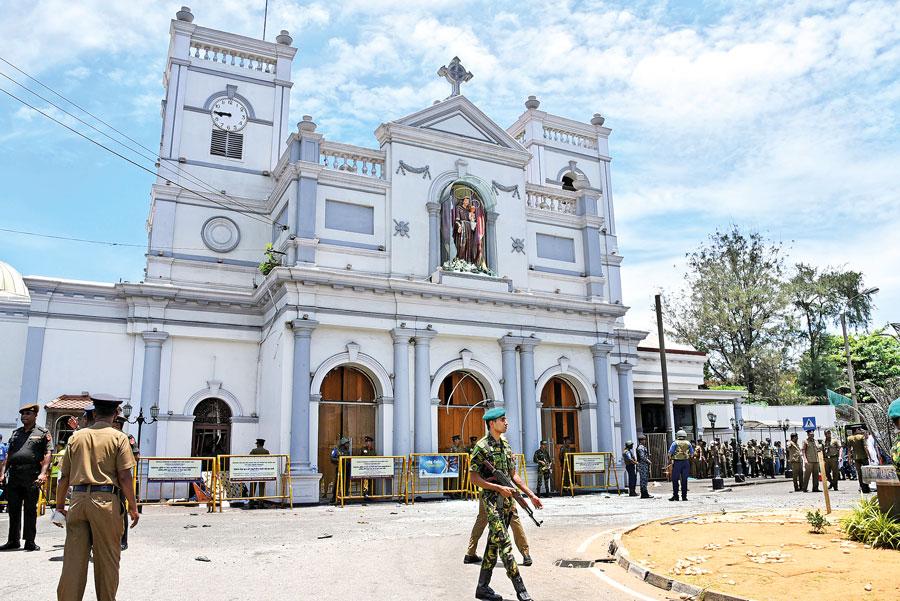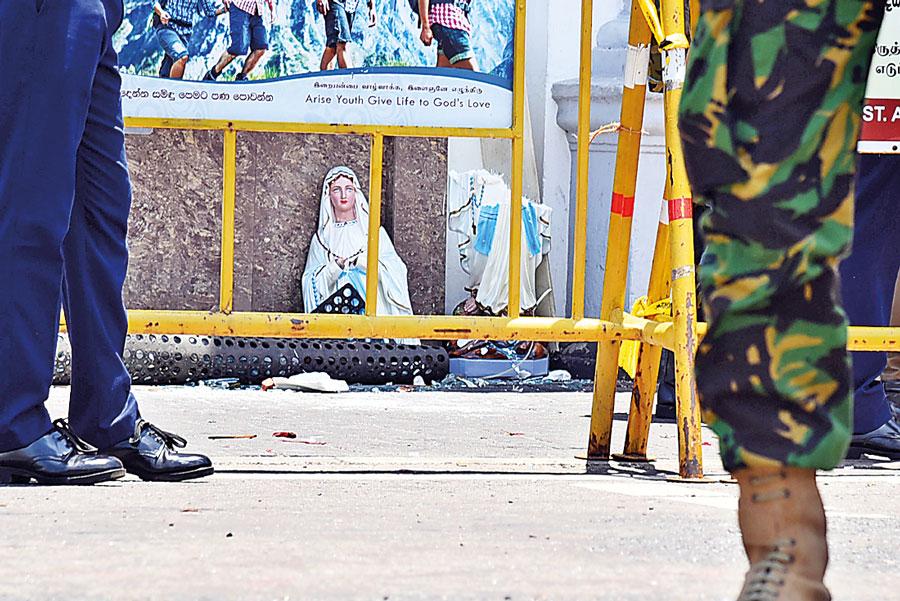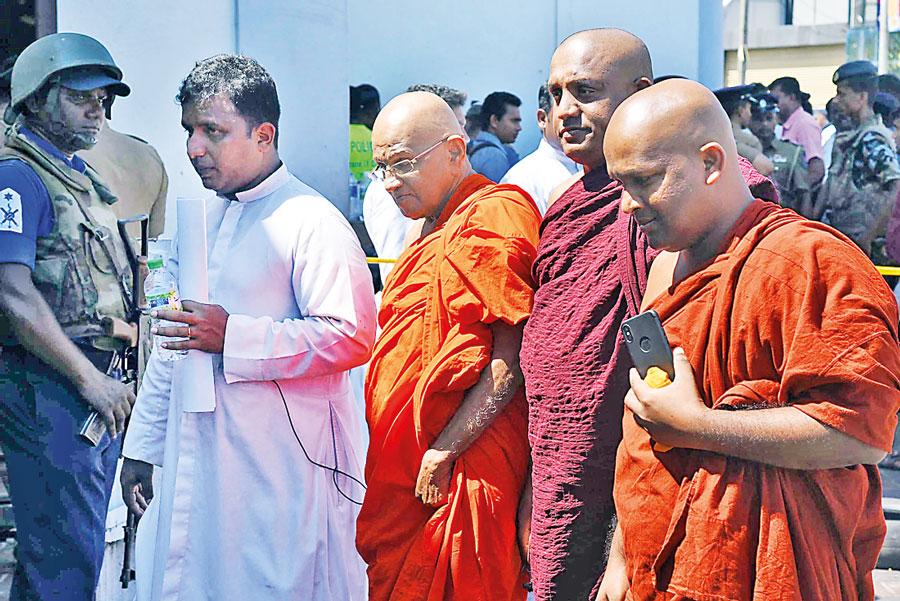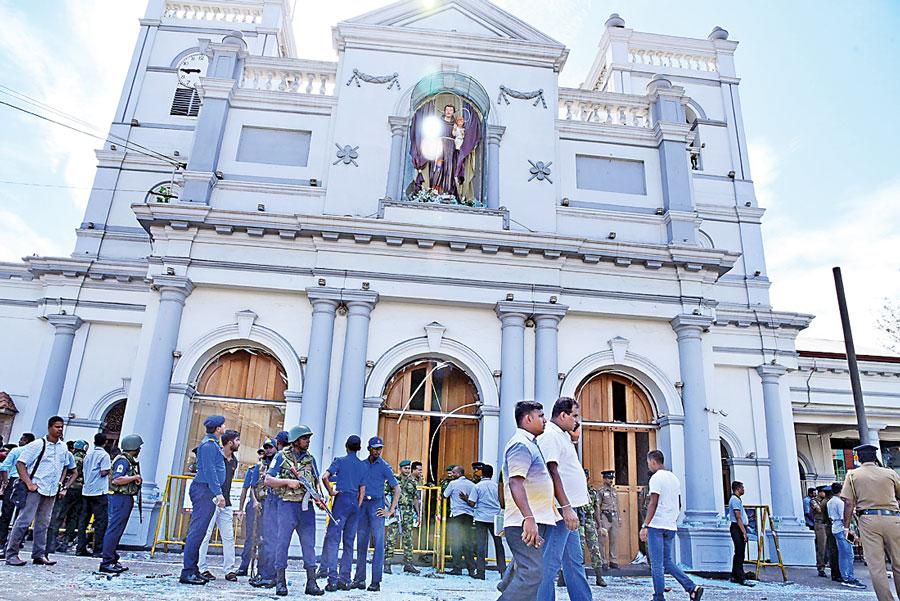 ---
Katuwapitiya Church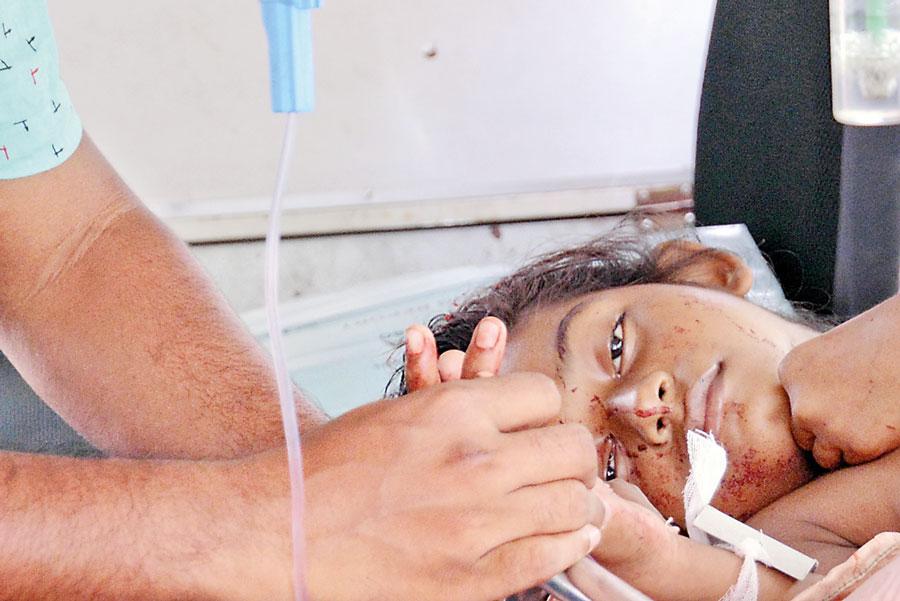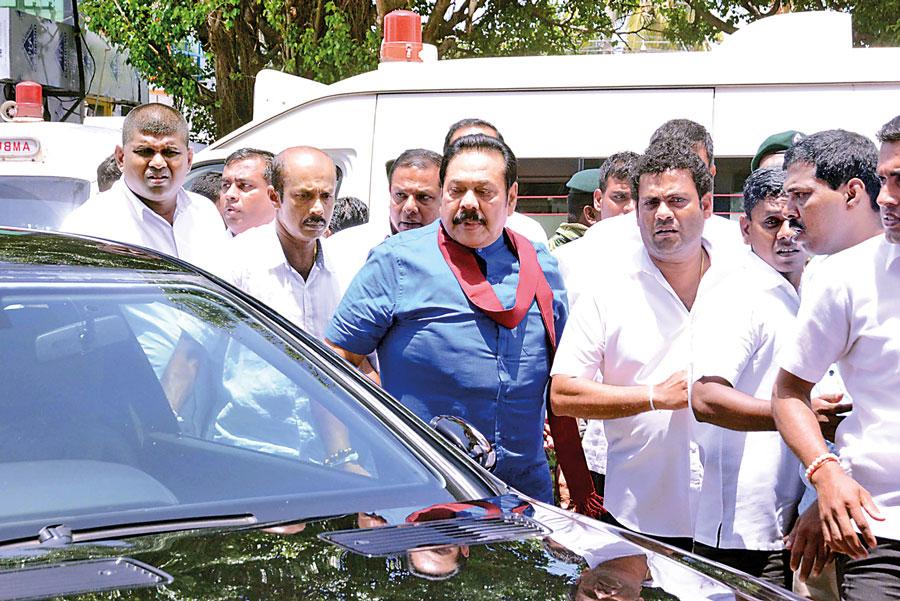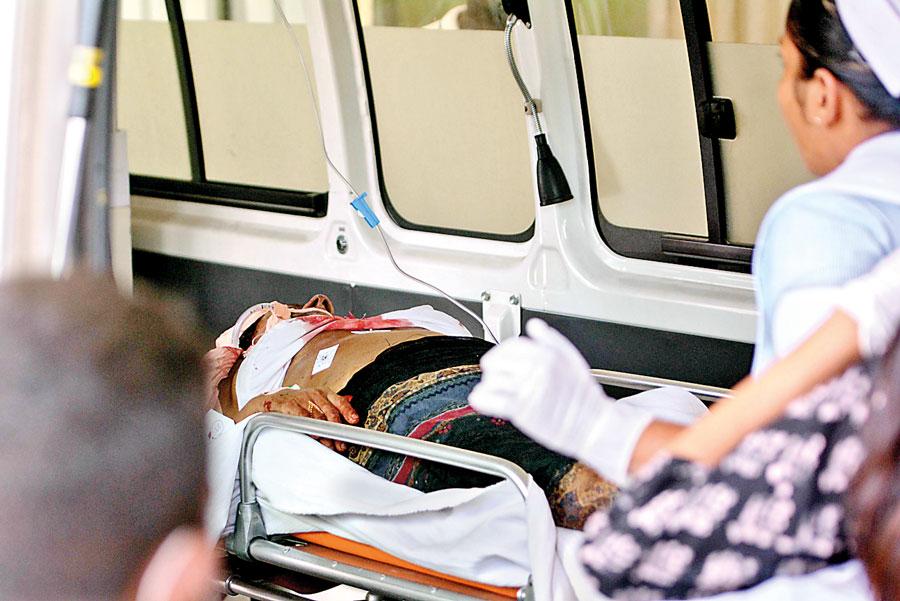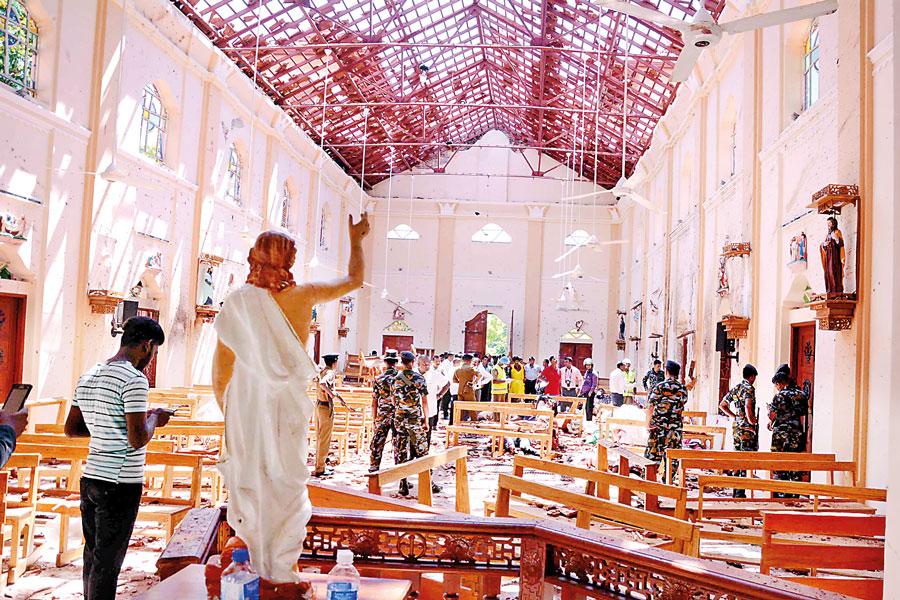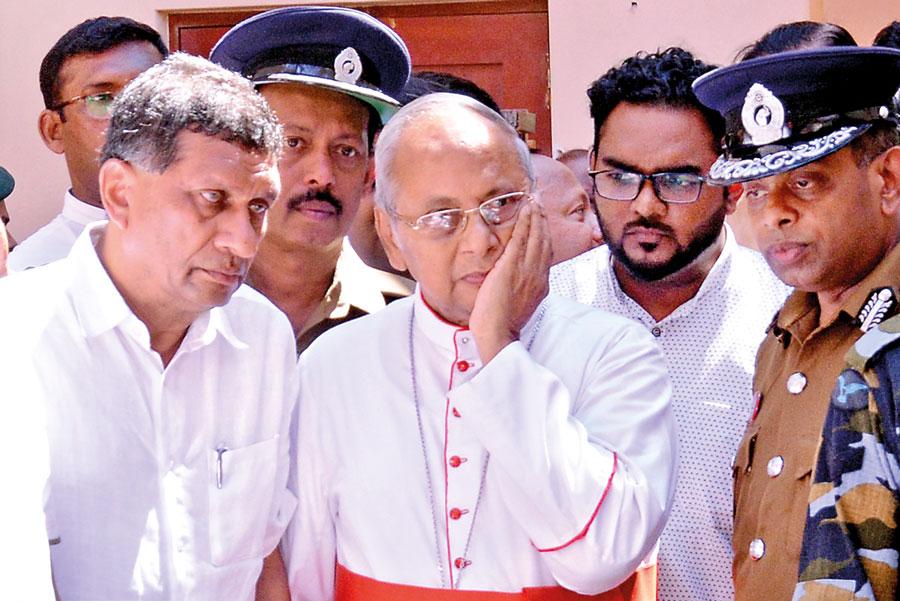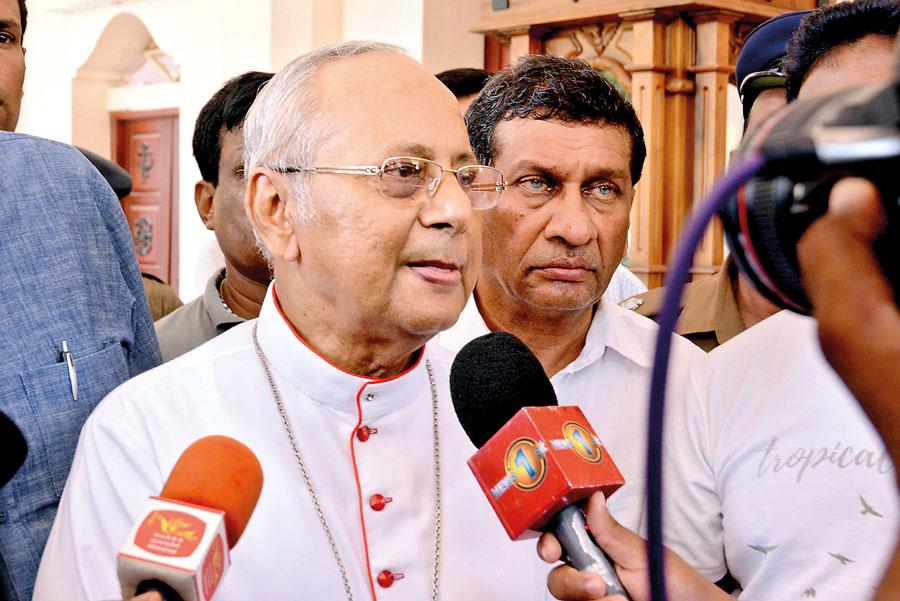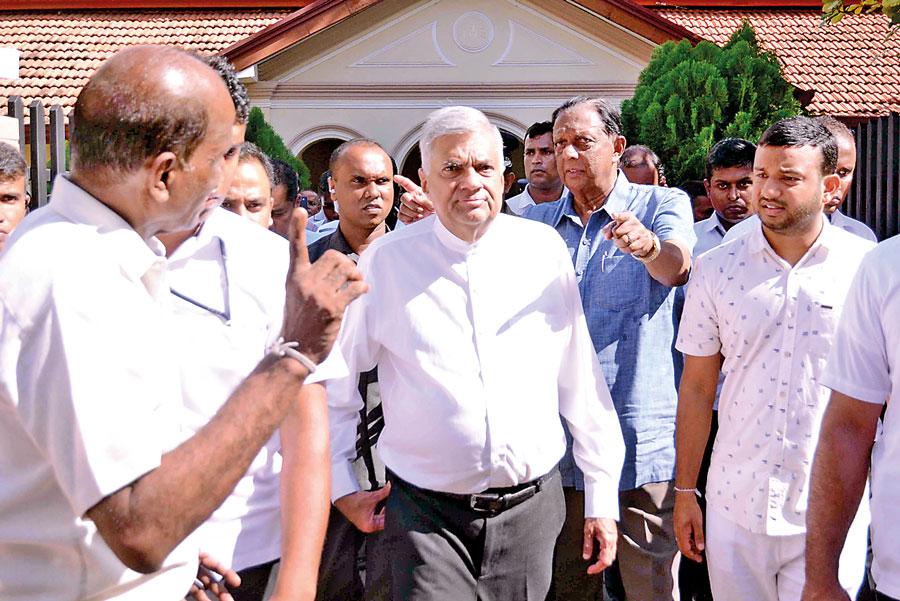 Pix by Pradeep Pathirana, Nisal baduge, Nimalsiri Edirisinghe, Waruna Wanniarachchi
---
Dehiwala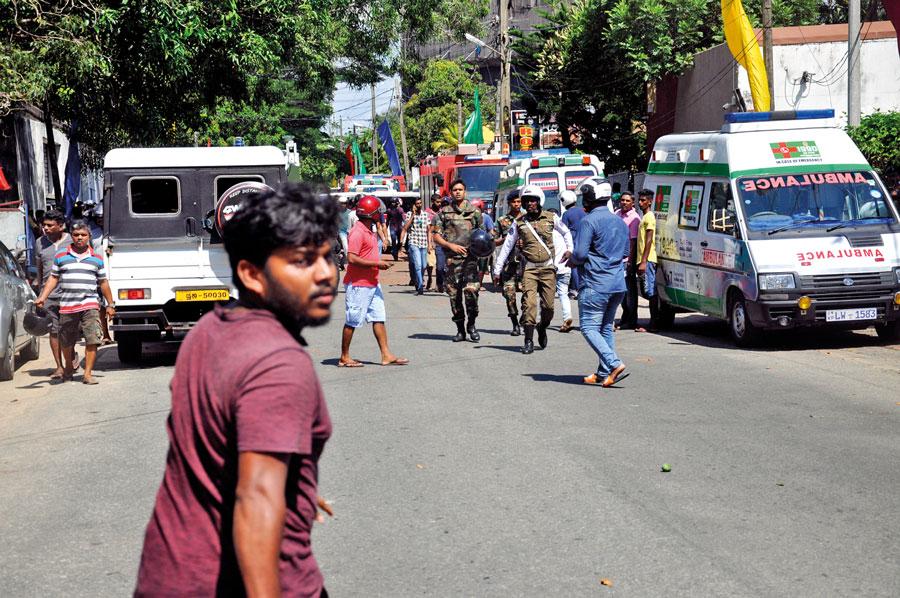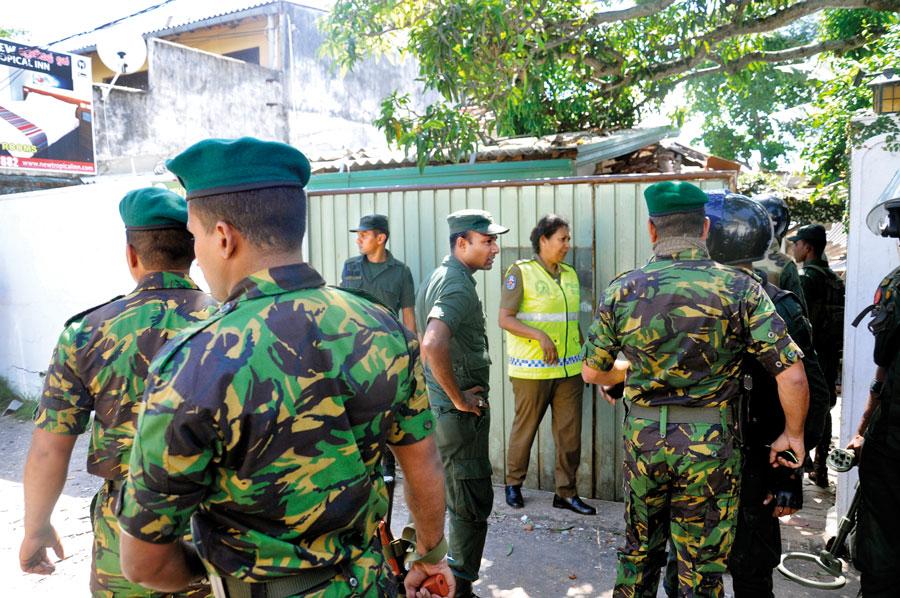 ---
Dematagoda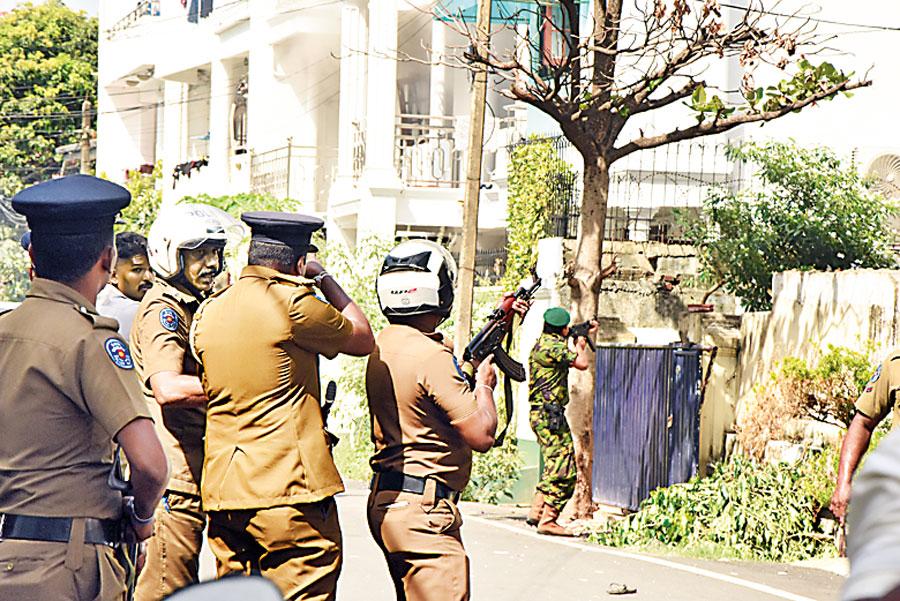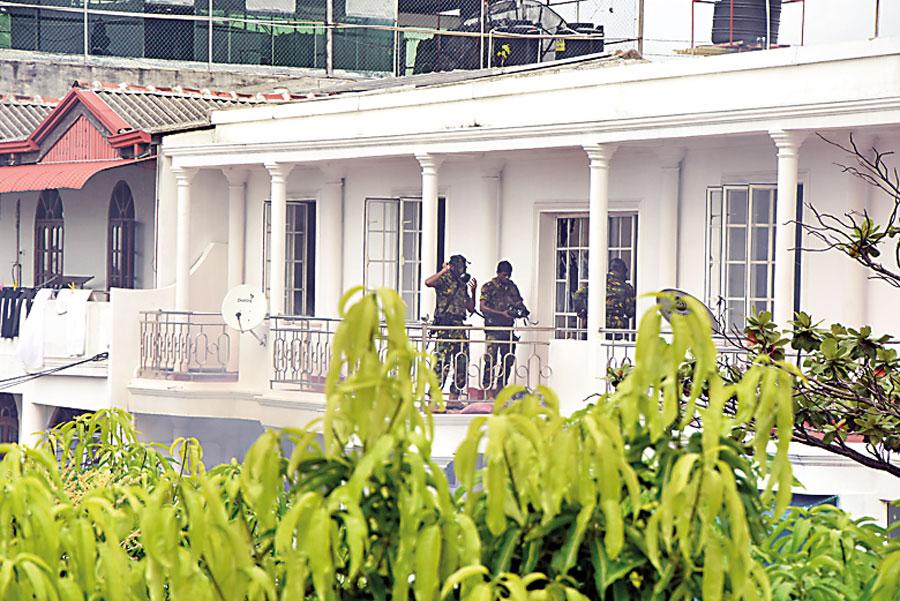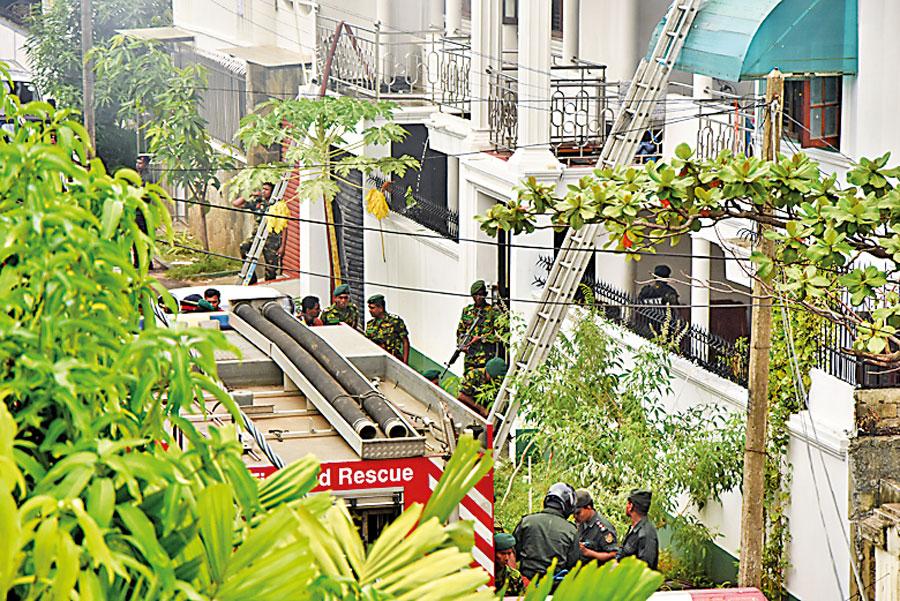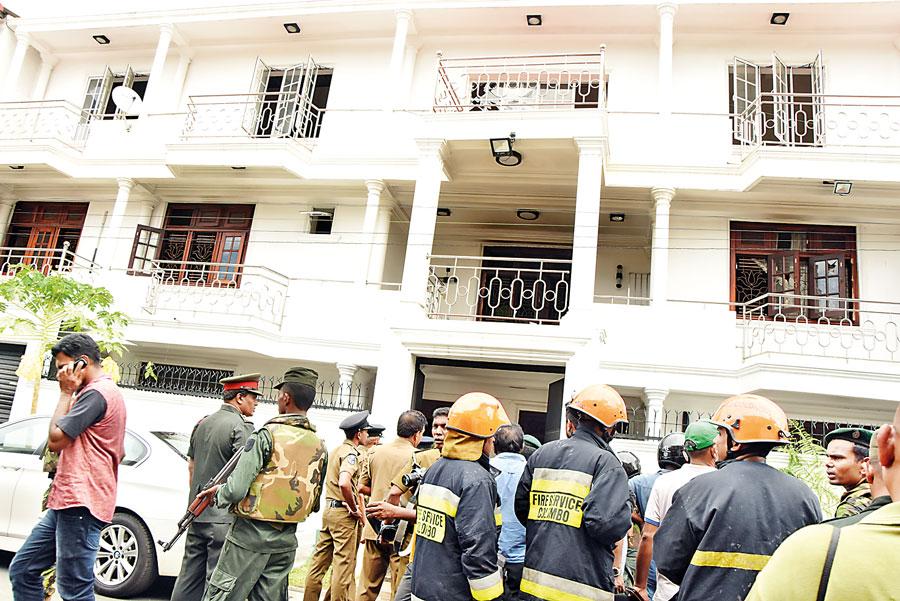 ---
General hospital - colombo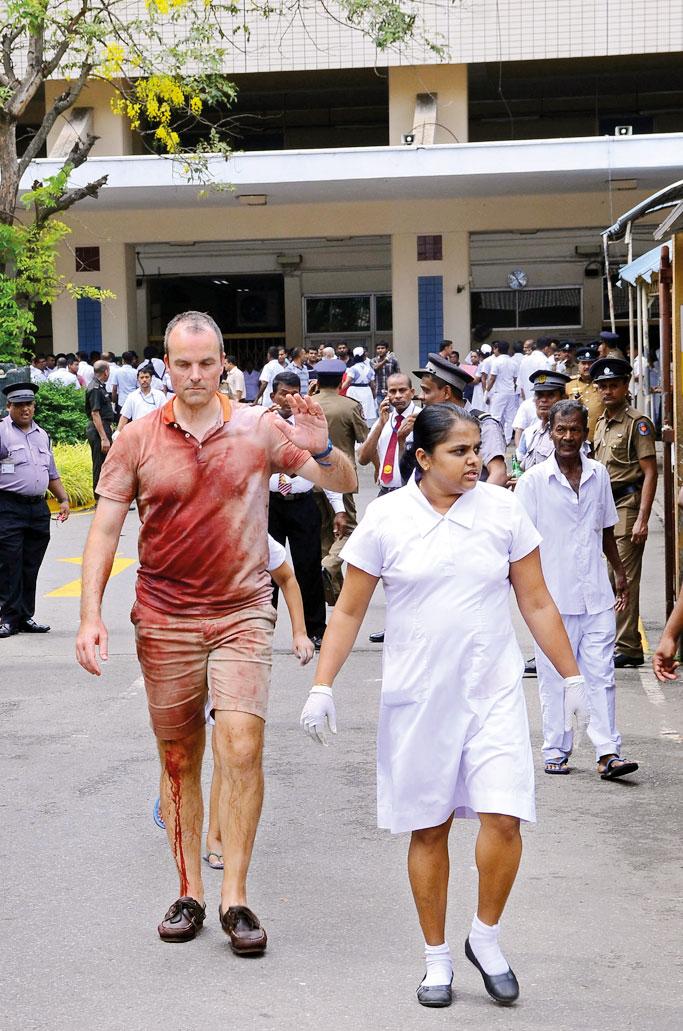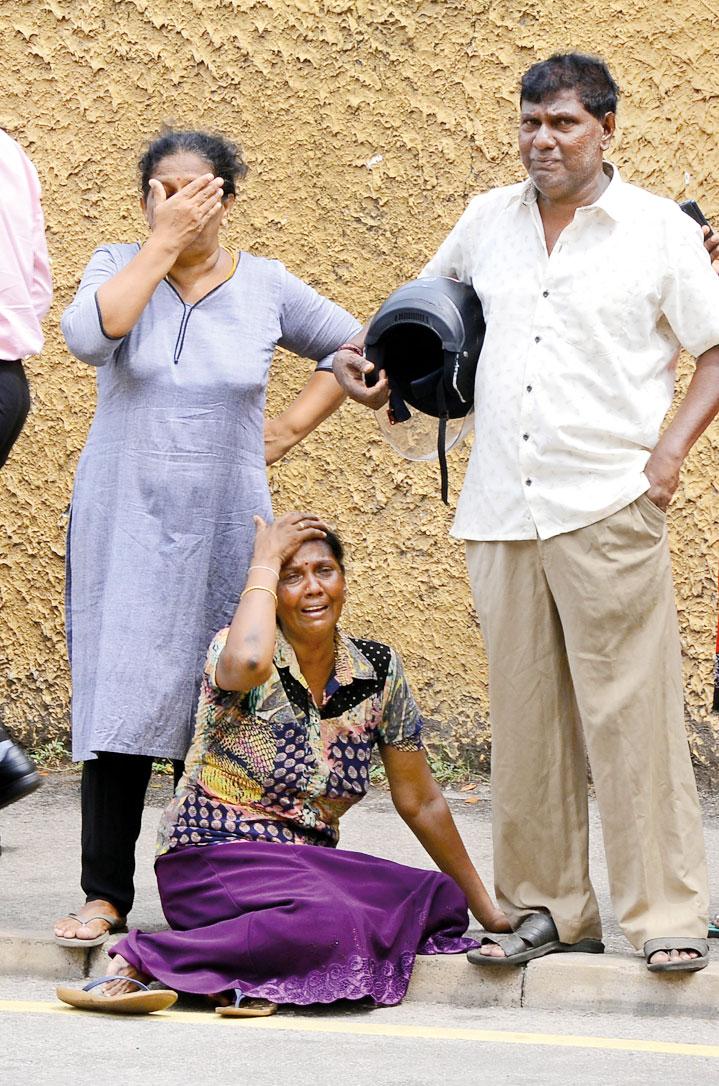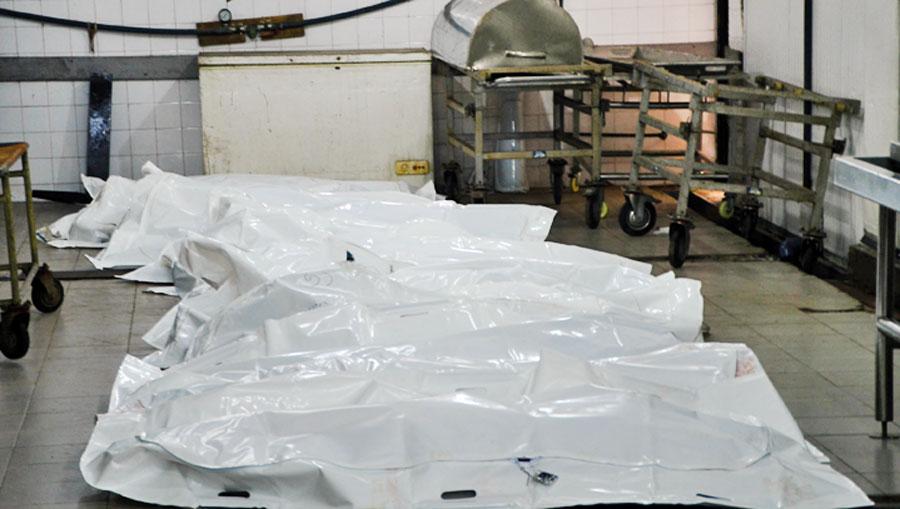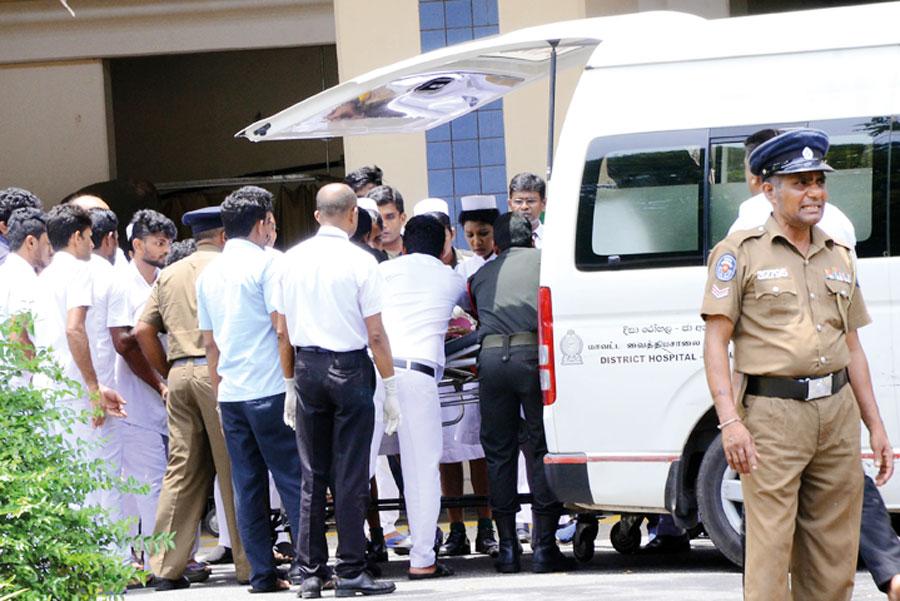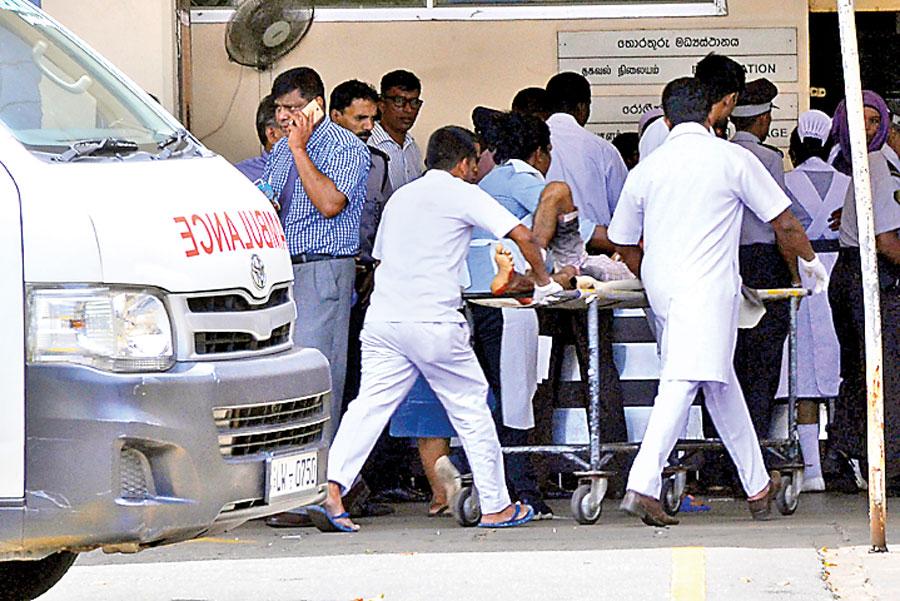 ---
Ragama Basilica church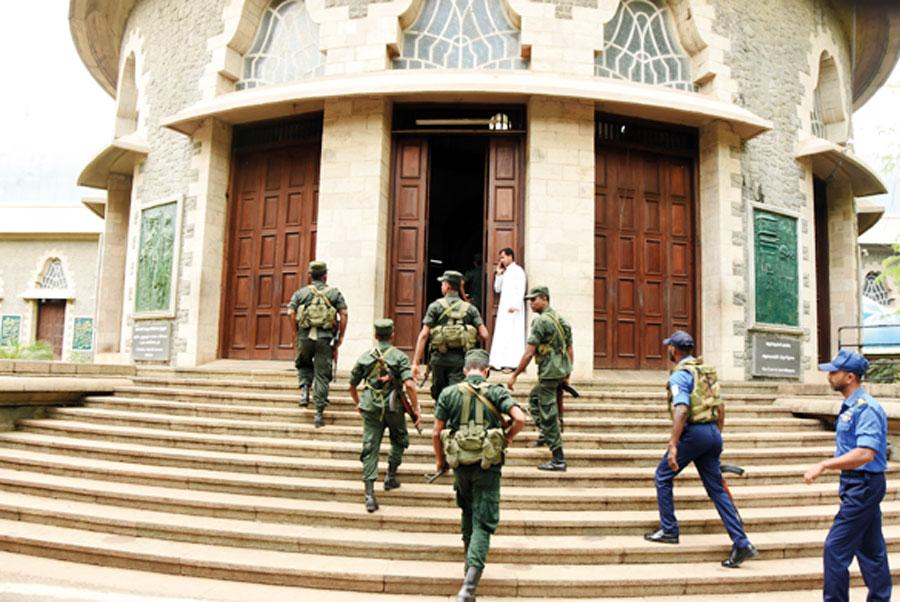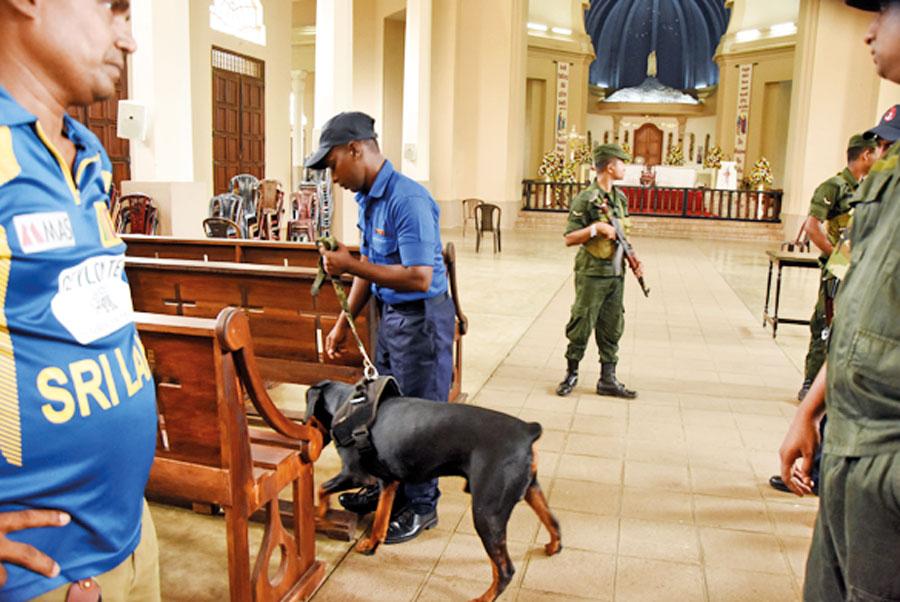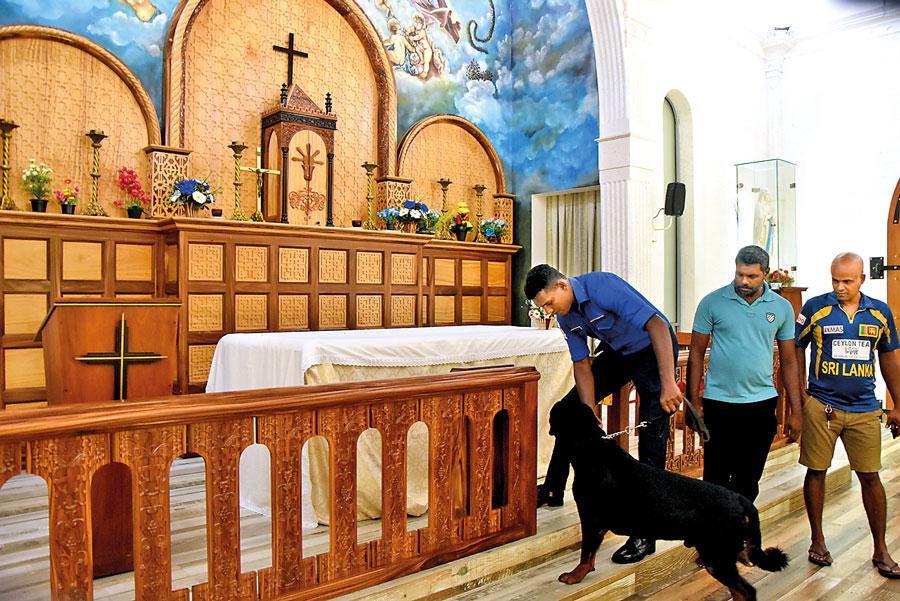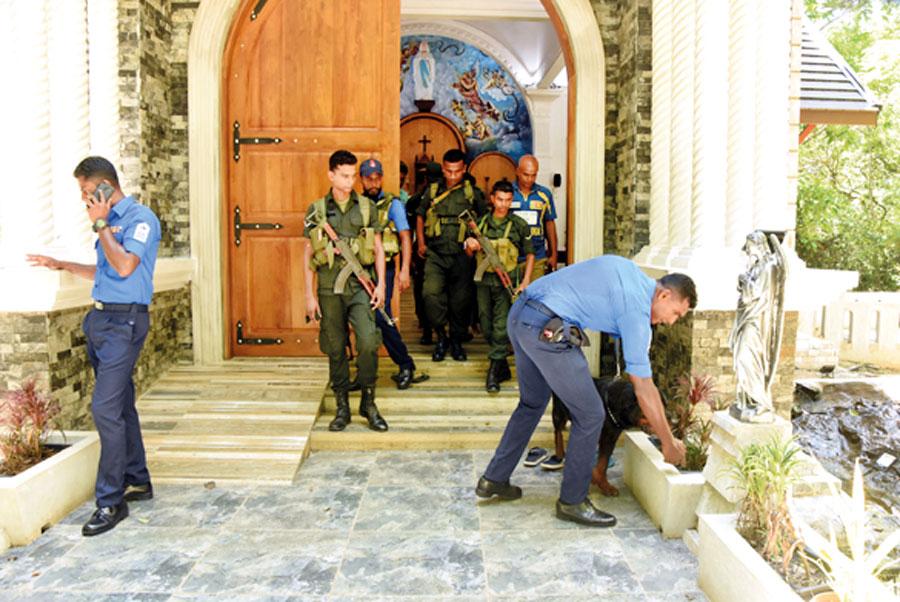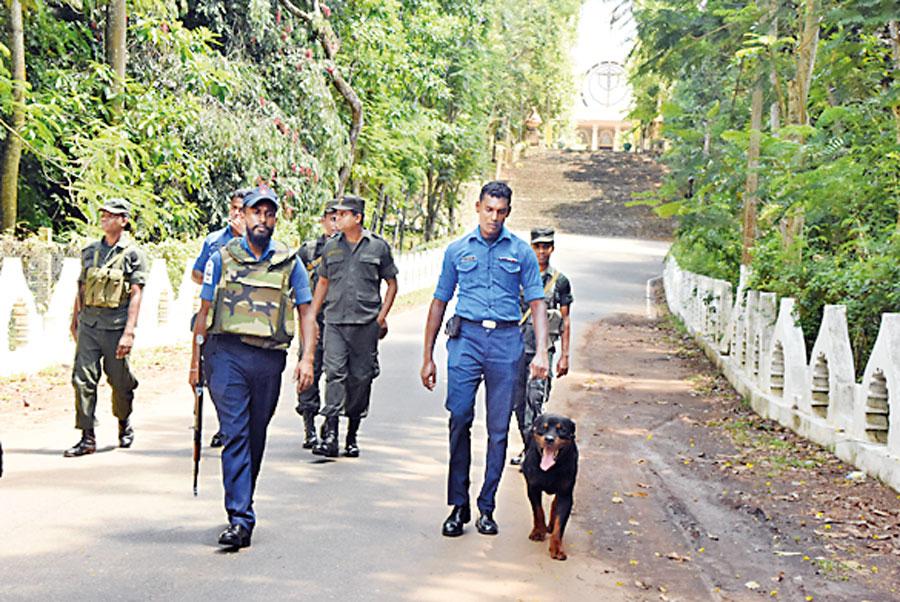 ---
Shangri-la Hotel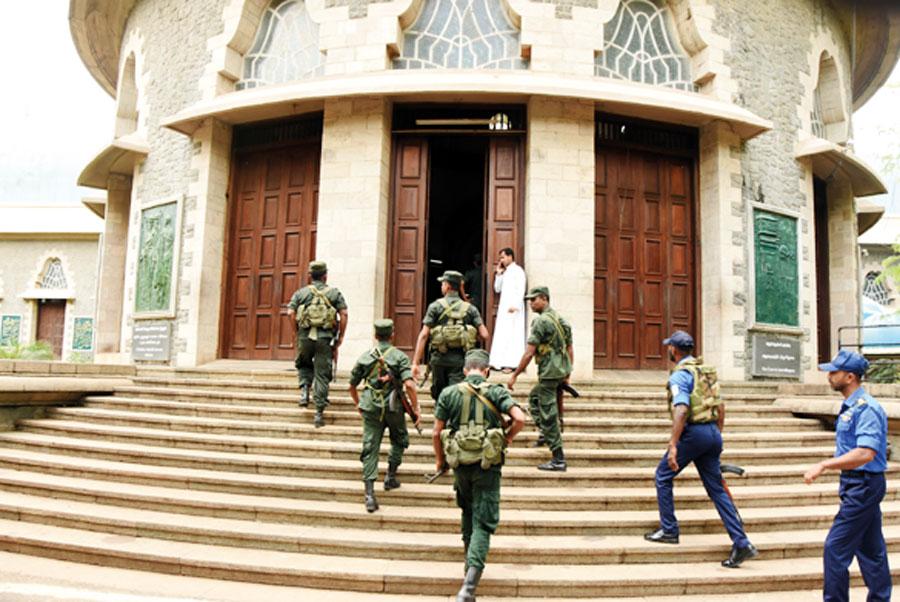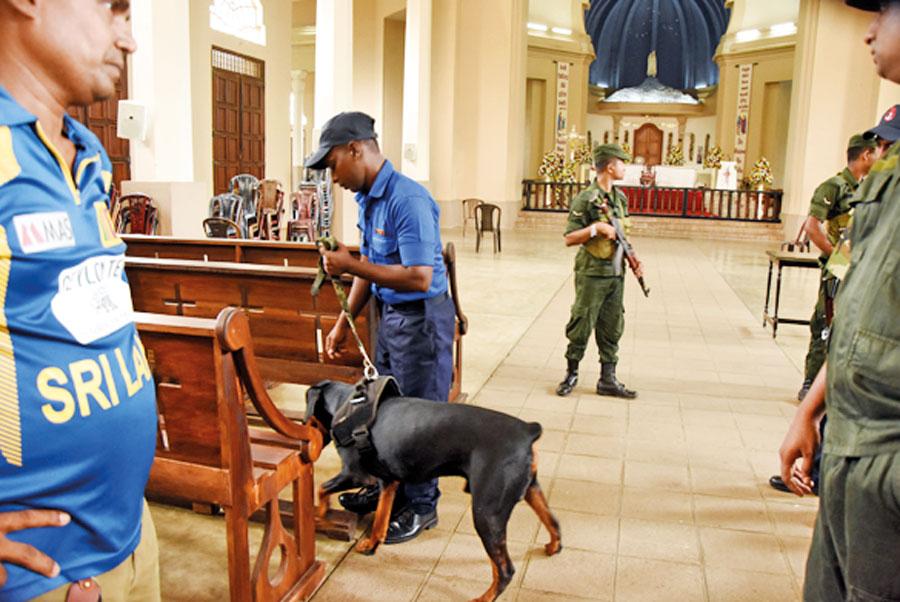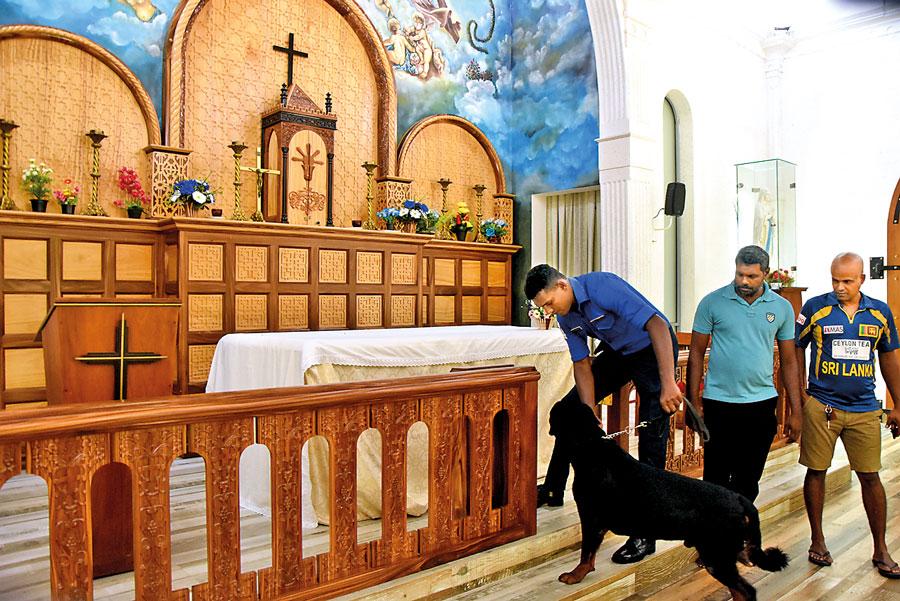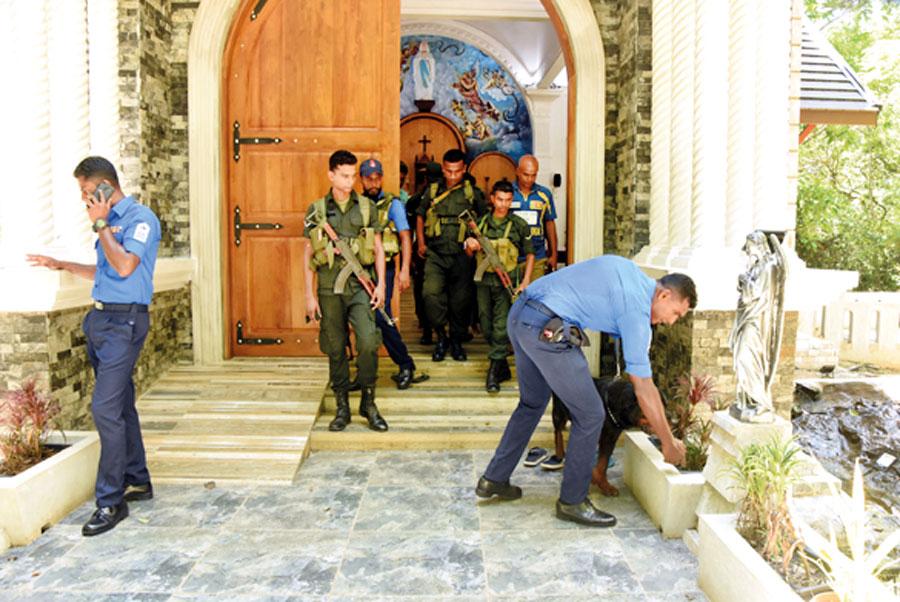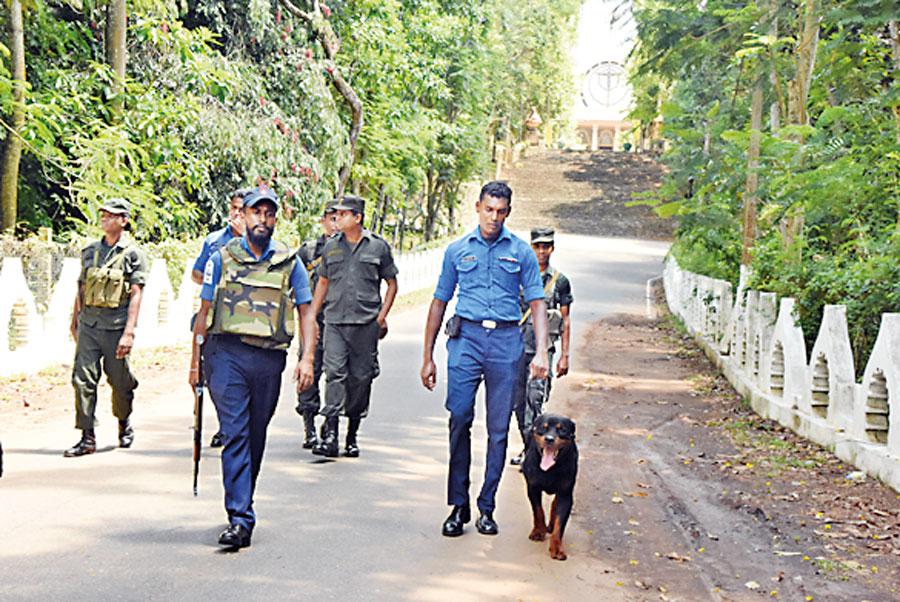 ---
cinnamon grand Hotel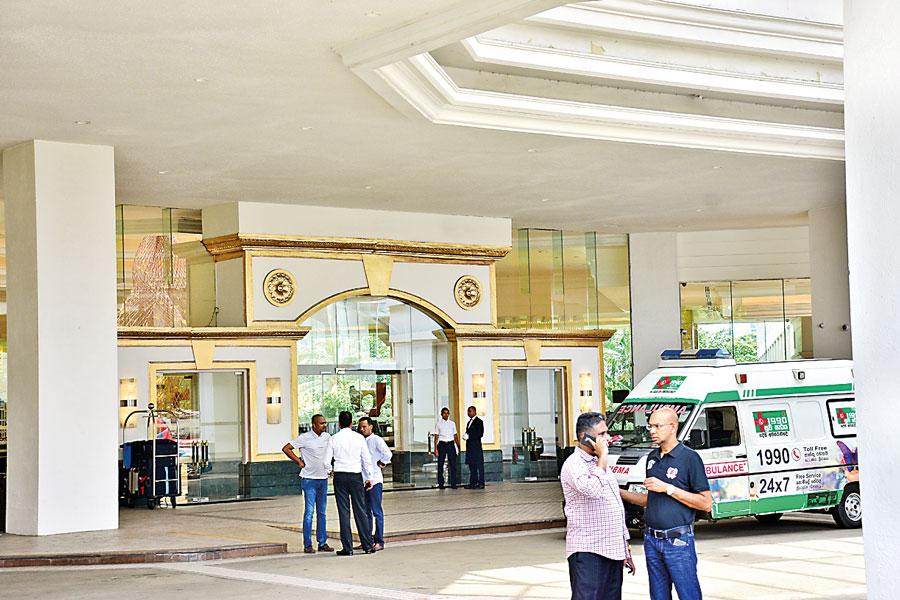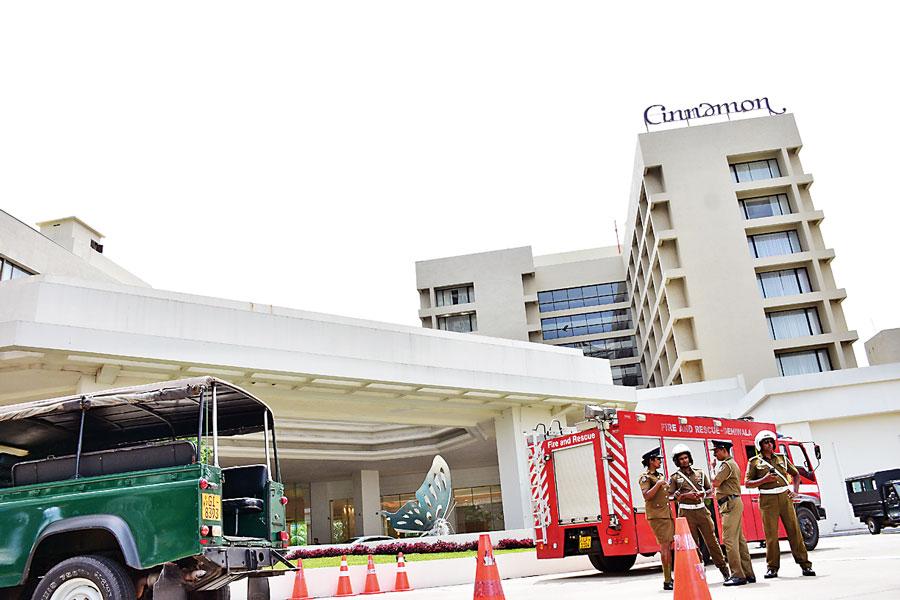 ---
Kingsbury Hotel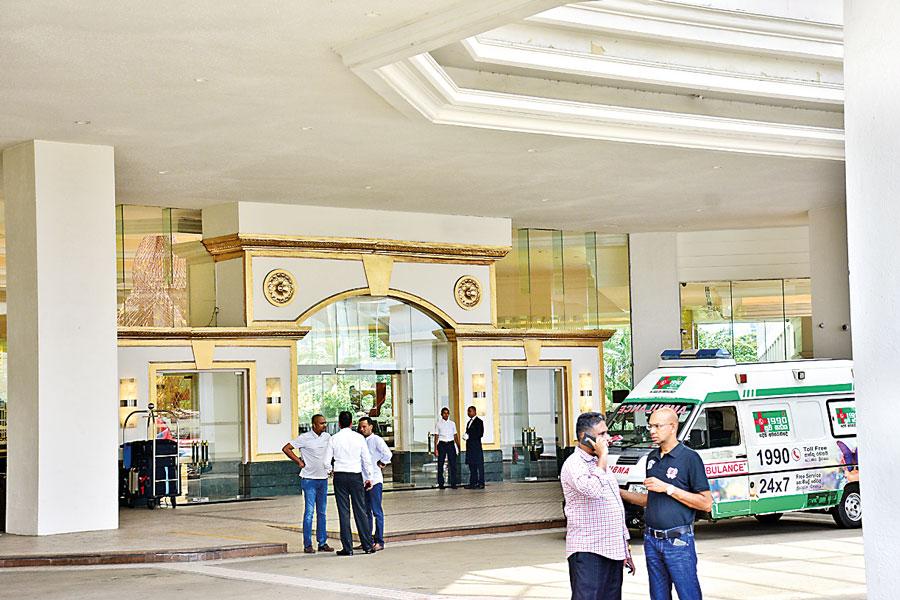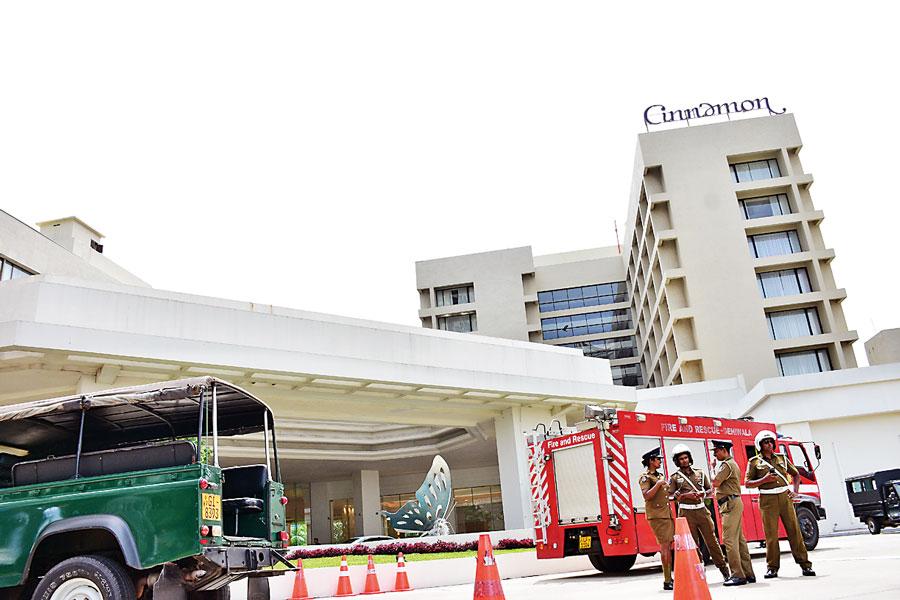 ---
---
---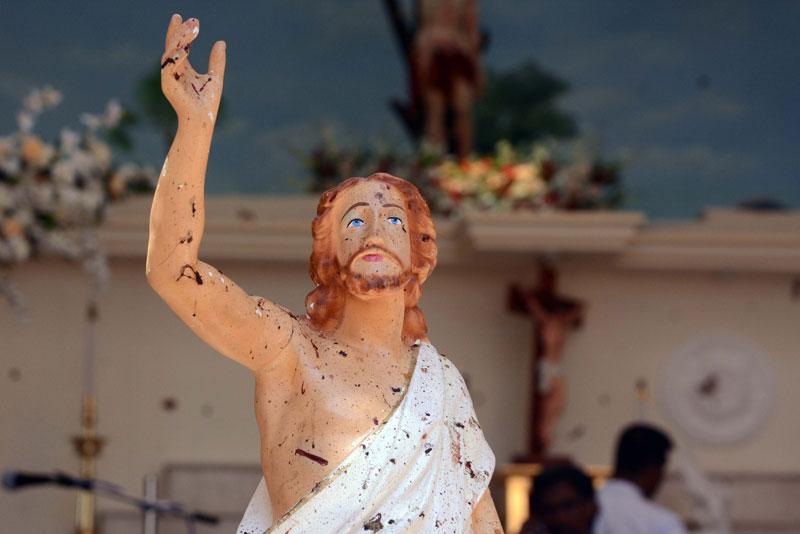 The picture shows a statue of the Jesus Christ with blood stains at the Katuwapitiya Church. Pic by Pradeep Pathirana
09:49 During a Cordon and Search carried out by the Sri Lanka Air Force today, 152 ammunitions and 8 ammo cases had been found at the Kahagolla area.
09:23 The death toll for the Easter Sunday terror attacks has risen to 290 by Monday morning with 500 have been injured, Police Spokesman Ruwan Gunasekara said.
He said 24 suspects are currently in the CID custody.
17:30 The death toll for the Easter Sunday terror attacks has risen to 207 with 450 reported to have been injured, police said.
Police Spokesman Ruwan Gunasekara said 66 bodies were placed at the National Hospital while 260 injured were receiving treatment there and 104 bodies were placed at the Negombo Hospital and 100 injured were receiving treatment at the Hospital.
Meanwhile, speaking to the Daily Mirror, Director of the National Hospital Dr. Anil Jasinghe said eleven foreign nationals from Poland, Denmark, China, Japan, Pakistan, USA, India, Morocco and Bangladesh are among the dead at the National Hospital.
The Director also said that 30 individuals were admitted to the Colombo North Hospital with injuries, while 69 were admitted to the Batticaloa Hospital, 55 at the Negombo hospital and 14 injured children were admitted to the Lady Ridgeway Hospital.
15:10 The government has decided to temporarily block social media sites including Facebook and Instagram. Presidential Secretariat said in a statement that the decision to block social media was taken as false news reports were spreading through social media.
15:03 Another explosion was reported close to a housing complex at Dematogoda a short while ago, police said.
15:00 President Maithripala Sirisena has instructed the Inspector General of Police (IGP) to impose police curfew across the island with effect from 6.00 p.m. today until 6.00 a.m. tomorrow, President's Secretary Udara R. Seneviratne said.
14:30 All 6 blasts which occurred early this morning were a result of suicide bombers; initial investigations have revealed. The Daily Mirror learns that investigations thus far have revealed that two people had checked into room number 616 of the Shangri-La Hotel on April 20, 2019.
14:21 Another explosion was reported a short while ago near the zoo in Dehiwala, police said. Two people were killed in the explosion.
13:02 Opposition Leader Mahinda Rajapaksa said it was absolutely barbaric to see violent attacks on such a holy day and that whoever is behind these attacks must be dealt with immediately.
12:57 While condemning the attacks, Prime Minister Ranil Wickremesinghe called on all Sri Lankans during the tragic time to remain united and strong. "I strongly condemn the cowardly attacks on our people today," he said.
12:45 Issuing a special statement over the terror incidents, President Maithripala Sirisena said he has given instructions to take stern action against the people who are responsible for the conspiracy.
12:30 At least 138 people were killed while many others were injured in the six explosions today, National Hospital Director Anil Jasinghe said.
He said 49 people were killed in Colombo, 62 in Negombo and 27 in Batticaloa.
In Colombo, over 200 were injured, while 110 injured in Negombo. Dr. Jasinghe said 67 were injured in Batticaloa.
"The situation is under control at hospitals," he said.
At least six explosions were reported this morning at three churches in Kochchikade, Katana, and Batticaloa and three five-star hotels in Colombo, police said.
Explosions were reported at St. Anthony's Church in Kochchikade, Kotahena and St.Sebastian's Church in Katuwapitiya, Katana.
Explosions were also reported at three five-star hotels, the Shangri-La, Cinnamon Grand and Kingsbury in Colombo.
Police said another explosion was reported at a church in Batticaloa.
Several casualties including foreign tourists have been reported.