---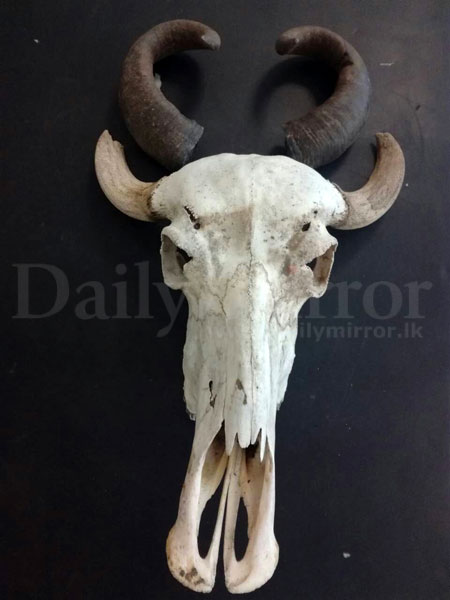 A French Police officer had been intercepted last evening at the Bandaranaike International Airport (BIA) while attempting to smuggle out a buffalo skull and a pair of horns, Airport Deputy Customs Director Parakrama Basnayake said.
He said the suspect (56) was arrested, while he was trying to board to Dubai by UL 225 with his son.
"Following a tip off and a suspicious scanner image the Customs officer managed to find out the skull and horns packed in his luggage. This was a rare case which we have detected so far," Mr. Basnayake said.
Taking dead animals or their parts out of the country is strictly protected and prohibited under the Fauna and Flora Protection (Amendment) Act, No. 22 of 2009. If a person wants to transport or keep animal parts in his/her procession, a proper permit should be obtained from the Wild Life Conservation Department.
Accordingly, the arrested person had no valid document with him from the Wild Life Conservation Department pertaining to the detected.
During the investigations at the Customs, the suspect had said that he was taking buffalo skull and a pair of horns because of his son loved to keep them with him.
Later Customs officers warned him not to take them out of the country and later he agreed to not to take them and after the Customs inquiry the suspect and his son were released.
However the buffalo skull and a pair of horns were confiscated.
The detection was conducted by the Customs Assistant Superintendent Isuru Nagahawatte and the investigation was carried out by the Airport Deputy Customs Director Parakrama Basnayake. (Chaturanga Pradeep)