---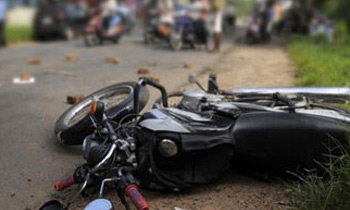 Four youth were killed in three separate road accidents in Horana, Ingirya and Weligama last night, Police said.
They said two persons, aged 19 and 20 were killed when a motorcycle they were traveling in collided head-on with a car at Wagawattha in Horana on the Ratnapura-Panadura Main Road. The victims were identified as residents of Handapangoda. The driver of the car has been arrested.
Meanwhile, a 16-year-old youth traveling in a motorcycle was died when he lost control of the motorcycle and crashed into a tree in Weligama on the Weligama-Panchaliya Road.
Police said the victim, resident of Weligama, was succumbed to his injuries after admitted to the Ahangama Hospital.
Another 24-year-old rider was also killed when his motorcycle collided in head-on with a car near the Ingiriya Police Station last night.
Police said the motorcyclist, resident of Kegalle had tried to overtake a lorry and collided with the car.