---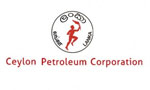 Four officials, including a deputy manager, of the Ceylon Petroleum Corporation (CPC), who had gone on an observation tour of four oil tanks belonging to the CPC in China Bay, had been held captive by officials of the Indian Oil Company (IOC). They had been locked up for about one hour.
The deputy operations manager of the corporation Menaka Jeewasiri, Assistant Engineer K. P Easwaran and two security officers, who had accompanied them, had been held captive by the IOC officials.
Sources said that four of the oil tanks at the tank farm in China Bay had been handed over to the CPC with the approval of the Cabinet, and these officers had examined them for the purpose of further development.
During their tour, the officers had been subjected to this treatment, said Ajith Dharmapriya, the media coordinator of the Ceylon Petroleum Corporation. The two vehicles the officers had come in had also been held by the IOC officials.
Dharmapriya said that the officers had later lodged a complaint with the China Bay Police concerning the incident.
The chairman of the Ceylon Petroleum Corporation said that they had informed the Ministry Secretary of the incident and further action would be taken.
Meanwhile, the China Bay Police said that Chiththam Raju, the senior vice chairman of the Indian Oil Company had complained to the police that officers of the CPC had trespassed on their company property.
In his complaint, Mr. Chiththam Raju had that that the officials had been given permission to enter the area only on one particular day -- namely December 28th -- but the officials had come on the 29th. He had said there was a bilateral agreement and no one was allowed to enter the site without the permission of higher officials.
Further investigations are being conducted by the OIC of the China Bay Police Station, P. Kumaradasa. (Mahinda Nissanka and Amadoru Amarajeewa)
Video by Mangalanath