---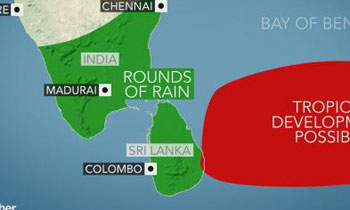 The Meteorology Department of Sri Lanka yesterday advised the people not to panic over foreign reports forecasting a storm or flood threats in the country.
Met Department Director Forecaster Anusha Warnasooriya told the Daily Mirror the people have begun to panic due to several foreign news reports of a storm that would likely hit Sri Lanka followed by a flood threat, however so far the Meteorology department data doesn't have evidence to confirm such reports.
She said the Meteorology Department was observing a low level atmospheric disturbance in the Bay of Bengal however it would travel over Sri Lanka towards India.
Further she said different regions of the world are using various numerical models to collect data and forecast on the weather but all those models are not suitable for Sri Lanka therefore most foreign reports are not reliable.
She also said the build up of a storm could be identified early and the Met Department would know if there was such a threat..
A major storm hit the country last in 2000.
Meanwhile, the Met Department said that rainfall exceeding 75 mm could be expected during the next 36 hours in some places particularly in the Central, Eastern, Uva, Southern and Sabaragamuwa provinces.
It also said Misty conditions could be expected at some places in the Western, Sabaragamuwa and Central provinces during the mornings with winds over 50 kmph. (Thilanka Kanakarathna)