---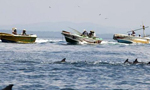 In a troubling news for Indian fishermen, Minister of Fisheries and Aquatic Resources development, Sri Lanka has announced a hefty penalty for foreign boats straying into Sri Lankan territory.
Foreign boats straying into Sri Lankan territory without permission will be harshly fined up to 17 crore. Singling out the violation, now becoming a subject of worry, the Minister Mahinda Amaraweera has announced this decision.
Mahinda Amaraweera said that local fishermen have been facing a lot of trouble because of foreign fishermen illegally entering the Sri Lankan territory.
Amaraweera also said that fine on foreign boats will range from Rs 30 lakh to Rs 17 crore. The current law will be amended to incorporate this clause, Mahinda said.
Till date, Sri Lankan Navy has taken trespassers, their boats and their fishing equipments in custody but never fined anyone. However, now the boats seized will be returned when the owner comes to retrieve the boats from Sri Lanka, Mahinda confirmed.
The situation has been tense between the fishermen of both the countries over Katchatheevu issue and their rights to fish in the Indian Ocean.
Indian fishermen who have been constantly facing the threat of arrest by the Sri Lankan Navy have approached the State and Central government for intervention and aide.
The only time the Indian fishermen are allowed to Katchatheevu is during the festival at St Antony's shrine there.(India Today)