---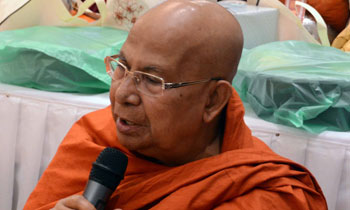 Rulers of the nation should follow the advice of the Maha Nayaka Theras and the Maha Sanga as a whole when running the country, Most Venerable Mahanayaka Thera of Amarapura Nakaya Kotugoda Dhammawasa Thera said today.
Ven. Mahanayaka Thera came up with this remark during his anusasana at a Sangika Dhana held at the Temple Trees for thousand monks in order to invoke blessings on the country last afternoon.
"The country should be run with the advice of the Maha Sanga including the most Venerable Maha Nayaka Theras. The advice which the Mahanayaka Theras and the Buddhist clergy provide are based on the Dhamma preached by Buddha. Even the late leaders such as D. S. Senanayake ran the country following the advice of the Maha Sangha.
Most Ven. Dhammawasa Thera said rulers of a country have to follow five principles according to the teachings of the Buddha. "President, Prime Minister and other ministers should provide clean water, sanitary facilities, fulfil housing needs of the people and preserve the environment as preached by the Buddha. We request that rulers of this country should follow these principles," he added.
The Mahanayake of Kotte, Sri Kalyani Samagri Dharma Maha Sangha Sabha of Siyam Maha Nikaya, Most Venerable Ittapane Dhammalankara Thera said only the Maha Nayaka Theras have the right to advice monks on participating in Dhannas and other functions. "Certain MPs have advised the monks not to participate in this Dhanna and religious programmes today. However, it should be noted that laymen do not have the right to advise the monks," he said.
Anu Nayaka of the Malwathu Chapter Venerable Niyangoda Wijithasiri Thera said he himself and other monks decided to participate in the Dhana and the other religious programmes at Temple Trees following the advice of Maha Nayaka Theras. (Yohan Perera)