---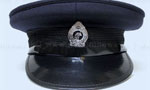 The former Assistant Superintendent of Police (ASP) of the Embilipitiya Police Station has reportedly been arrested in connection with the death of a youth in Embilipitiya.

A high-ranking police officer said that the CID had recorded a statement from the ASP this morning and that he was arrested thereafter.

The Embilipitiya Magistrate issued arrest warrants on January 27 on several suspects including the HQI and the ASP of the Embilipitiya Police Station over the clash which resulted in the death of one individual.