---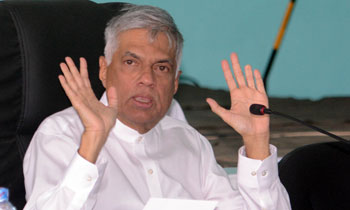 Prime Minister Ranil Wickremesinghe yesterday hit out at public servants in areas which were hit by floods in May this year for not carrying out the relief work and asked them to resign if they were unable to carry out their duties properly.
He said this at a flood relief review meeting held in Morawaka.
"Please resign if you can't work so that we can inform the President and appoint new people and get the work done," he said while giving them a November 2017 deadline.
"The UNP government of 2003 was able to complete relief work in three months after the floods that year, but the work is moving slowly this year. We might have to airdrop relief money using helicopters if delays continue," the Prime Minister said.
He said none of the compensation applications received from SMEs in Matara District have been processed as at October 13, 2017.
The National Insurance Trust Fund was blamed for the delay because the district secretaries said they had completed clearance work.
The Prime Minister was visibly upset when he heard that the Peoples Bank and National Savings Bank Chairmen were not present at the meeting and asked them to come and meet him as soon as possible.
It was revealed that the reconstruction of damaged bridges had not begun in any of the affected districts while work on renovating and repairing to affected schools in the Galle District had also not got off the ground and that Asian Development Bank funds remaining unused would have to be returned if they were not made us of before December 31, 2017.
The Prime Minister was told that Southern Provincial Council had not allowed the central government officers to carry out relief work and on hearing this the Prime Minister said he would take up this matter with the Provincial Governor.
"The Governor reports directly to the President and therefore the PC has to work with the central government," he said.
Law and Order Minister Sagala Ratnayake said all institutions should work together. "Go out of your comfort zones and help the helpless," he said while highlighting that most of the government officers are reluctant to go out of their comfort zones.
Home Affairs Minsiter Vajira Abaywardene said state officers would have to take the blame for the delay. He said they must not palm of the responsibility to the political leadership. (Yohan Perera in Morawaka)