---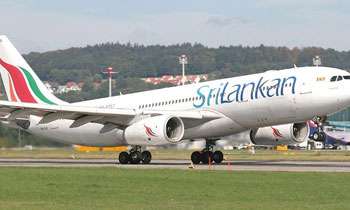 SriLankan Airlines' Colombo flight from Kuala Lumpur (UL-319), had been diverted to Singapore by former SriLankan Airlines Chairman Nishantha Wickramasinghe, to pick up him, his spouse and another Govt. delegation in January 2014, the PCoI on irregularities at the SriLankan Airlines was told yesterday.
Operations Control Manager of the Airlines Gopitha Indrajith Ranasinghe informed the Commission that by the time the diversion took place a direct passenger flight from Colombo to Singapore UL-309 was available and he had informed the former Chairman that there would be only a one-and-a-half hour delay.
He informed the Commission that the direct flight from Colombo to Singapore had departed on time but it returned back to Sri Lanka due to suspected fuel leakage, but as the Engineering Division had not found any leakage it had departed again after some time.
He also informed the Commission that after the second departure of the direct flight to Singapore, the former Chairman has to stay only one-and-a-half hour in Singapore.
"I asked him if it was really necessary to divert a flight, while a direct flight from Colombo to Singapore was on the way, but he instructed me to go for a diversion stating that there was a government delegation to come to Sri Lanka," he informed the Commission.
During his testimony, he informed the Commission that according to the Kuala Lumpur-Colombo flight Passenger Manifesto, the aircraft had picked up only former Chairman, his spouse and Dr Sarath Amunugama from Singapore but Dr Sarath Amunugama has not made immediate request to arrange a flight.
He also informed the Commission that except for the President, there was no flight diversion happened for a Government delegation in Sri Lanka and this was the first time.
The witness also notified the Commission that due to the particular incident SriLankan Airlines had to pay additional charges for the pilots and staff, additional fuel charges, landing charges, engineering charges and over-flight charges.
"There were 120 Economy Class passengers and four Business Class passengers in the diverted flight and there could be transit passengers as well," he said.
He informed the Commission that if there were transit passengers, the SriLankan Airlines have to re-book their tickets or provide them hotel accommodation. (Yoshitha Perera)