---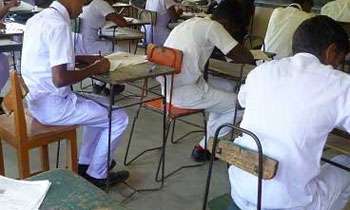 Three impersonators were arrested for sitting the G.C.E. Ordinary Level examination mathematics papers in Thihagoda, Thanamalivila and Kalmunai yesterday.
Police said two candidates of the G.C.E. Ordinary Level examination were also arrested in connection with these incidents.
They said an examination officer at an examination centre in Puhulwella school in Thihagoda had complained to the police stating that an impersonator was answering the paper. The 24-year-old suspect and 25-year-old candidate who are residents of Karathota were arrested following the complaint. They would be produced in the Matara Magistrate's Court.
A 40-year-old suspect and a 45-year-old candidate from Maravila were arrested by the Thanamalvila Police after an examination officer at a school in Bodagama, Thanamalvila had lodge a complaint with the Police.
They were to be produced before the Wellawaya Magistrate.
Meanwhile, a 19-year-old suspect from Saindamaradu who sat for the mathematics paper at an examination centre in Kalmunai was arrested for cheating at the exam. He will be produced in the Kalmunai Magistrate's Court, Police said.