---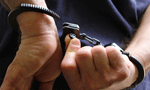 Five out of seven Indian nationals who were allegedly involved in the kidney transplant racket were arrested by the Pesalai police yesterday, police said.
They said the suspects were arrested near the main road of Nataspathrie in the Pesalai police area.
It was revealed that they had escaped from the Mirihana detention Center on August 5.
The Talaimannar police arrested another suspect who aided and abetted them to escape from the detention camp. (Chaturanga Pradeep)