---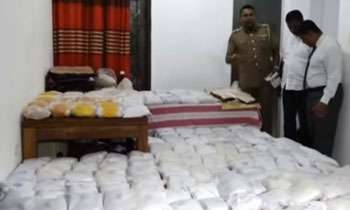 Five people have been arrested in Bangladesh over their suspected involvement in the biggest drug haul in Sri Lanka's history.
The suspects were detained in separate raids on Monday, said Rapid Action Battalion spokesperson Mohammad Mufti Mahmud Khan.
Fatema Imam Tania, 26, and Afsana Mimi, 23, Salma Sultana, 26, Sheikh Mohammad Badhon alias Parvez, 28, and Ruhul Amin alias Saymon 29, were detained from Kaula near under Airport Police Station in Dhaka yesterday, according to a press release issued by the elite force.
They are thought to be involved with the massive haul of drugs in Sri Lanka in December 2018, according to the press release.
On December 31 last year, law enforcers in Sri Lanka, in a special drive, recovered 272kgs of heroin and 5kgs of cocaine, and detained two Bangladeshis named Md Jamal Uddin and Rafiul Islam in Mount Lavian area in Colombo, according to the release.
Earlier on December 14, 2018, another Bangladeshi named Surjomoni was detained with 32kgs of heroin from the same area of Sri Lanka.
Bangladesh would provide full cooperation regarding the investigation of the drug haul, M Reaz Hamidullah, Dhaka's envoy to Colombo, had then said. (Star Online)