---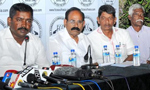 A cross-section of fisher leaders has expressed disappointment over the outcome of the recent high-level meeting between External Affairs Minister Sushma Swaraj and Sri Lankan Foreign Minister Mangala Samaraweera in Delhi to find a solution to the long-standing 'livelihood issue' of Tamil Nadu fishermen.
"We are not at all satisfied with the decision to set up a Joint Working Group (JWG), joint patrolling and hotline between the Coast Guards of the two countries to address the issue as none of the measure would help to find a solution to the issue," a leader who was part of the delegation that held talks with their Sri Lankan counterparts, ahead of the high-level meeting, said.
The leaders had high hopes that the two governments would work out a solution and allow Tamil Nadu fishermen to fish in the Lankan waters in the Palk Bay for specific period till they switched over to deep-sea fishing or phased out bottom trawling; but, they were disappointed.
"The whole exercise turned out to be futile and it was totally disappointing," U. Arulanandham, president of the Alliance for the Release of Innocent Fishermen (ARIF), told The Hindu . It was shocking that Ms. Swaraj could not prevail upon the Sri Lankan government to secure the release of 115 boats detained in the island nation for more than one-and-a-half years, he said.
Most of the boats were badly damaged and the fishermen would receive only some wooden planks and scraps when the Sri Lankan authorities returned the boats, he rued. The Tamil fishermen from northern Sri Lanka, who were crying foul about destruction of marine resources, should understand the steps taken by the State government to protect the marine resources, he said.
Mr. P. Sesu Raja said it was unfortunate that the Indian government, which wrested an assurance from the Sri Lankan government that the fishermen would not be attacked, failed to secure an assurance that they would not be arrested till alternative arrangements were made.
It was also distressing to note that Ms. Swaraj could not secure the release of the mechanised and country boats held in Sri Lanka, he said.
Mr. M. Ilango, leader of the National Fishworkers' Forum (NFF), said the decision to set up a JWG was only an eyewash. "If Ms. Swaraj and Mr. Samaraweera could not decide on securing the release of the boats, it will be foolish to hope the JWG will secure the release," he said.
The decision to set up joint patrolling and establish hotline between the two coast guards was aimed at chasing away the Tamil Nadu fishermen, he said. No doubt Ms. Swaraj, recovering from an illness, took sincere efforts to find a solution, but the exercise went in favour of the Sri Lankan fishermen, he alleged.
"Both India and Sri Lanka failed to note it was the livelihood issue of Tamil Nadu fishermen and it has to be approached with a humanitarian touch," he told The Hindu .