---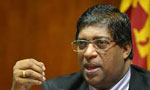 Finance Minister Ravi Karunanayake yesterday vowed to proceed with the proposed Customs Bill despite objections from some quarters.
He said only a white paper had been presented for discussion on the proposed legislation. He said the Customs Ordinance was introduced in 1864 and that such antiquated laws should be amended to cope up with the present situation.
The minister said however there were crooks who opposed any changes to this archaic law and regretted moves by some of those in authority. He said that he regretted that some people in authority were also critical of the move while being unaware of the proper facts.
"There is only a white paper. There is no Bill yet. We are open for suggestions," he said.
Earlier, trade unions attached to the Sri Lanka Customs urged the government not to proceed with the proposed legislation. They also met religious dignitaries and asked them to prevail upon the Government to stop going ahead with the new Bill. (Kelum Bandara)