---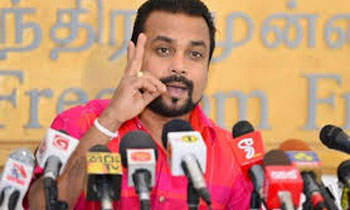 The government should provide compensation to the farmers, who were affected following the prevailing shortage of fertilizer, leader of National Freedom Front (NFF), Wimal Weerawansa said today.
Addressing the media, he said the government should be held responsible for the prevailing fertilizer crisis and added instant actions should be sought to provide compensation to the farmers who were at a serious risk owing to the shortage.
"According to the information gathered, we noticed that the tenders had been issued in an illicit manner and thus importation of perilled fertilizer has been delayed. It is questionable as to why the government could not handle the tender procedure in a comprehensive manner without putting the innocent farmers into danger," Weerawansa said.
He further said the government should do justice to the farmers who are entangled with the prevailing crisis and see that such a crisis would not occur in the long run again.
Meanwhile, he said they were pretty sure that the Pohottuwa would secure most number of seats followed by the victory at the upcoming Provincial Council Elections. (Sheain Fernandopulle)
Video by Buddhi