---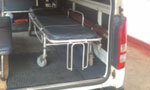 A female patient who was being transported to the Karapitiya Hospital is reported to have fallen off the ambulance on the Southern Expressway this morning after its back door was suddenly opened, police said.
Police said the incident occurred near the Godagama entrance on the Southern Expressway soon after it started its journey to Karapitiya Hospital carrying five patients.
They suspect that the back door of the ambulance must have opened suddenly when an oxygen cylinder hit on it with the vehicle gathering speed.
It was reported that the woman was taken to the Karapitiya Hospital with the assistance of the Expressway Police at the Godagama entrance.
The victim, a resident of Beliatta, was a mother who had delivered a baby a week ago and she had been taken to the Karapitiya Hospital from the Tangalle Hospital for a clinic when the tragedy occurred. (Krishan Jeewaka Jayaruk)