---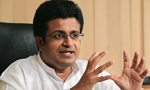 PHU General Secretary and MP Udaya Gammanpila yesterday claimed there would be a risk to the unitary nature of Sri Lanka because of the intervention of federal experts in the proposed new constitution based on the resolution approved in Parliament on March 9.
Mr. Gammanpila said the proposals in sub-committee report on the Central Government and Provincial Councils had proved that there was a conspiracy to include federalism in the proposed new constitution.
"The government has repeatedly stressed that it would not compromise on the unitary nature of Sri Lanka. But the situation has changed with there being none to speak up on the unitary state in the sub-committee though there are several federal experts in it," he said.
The MP said this would lead to the setting up of a Constitutional Assembly based on racism.
He said according to the sub-committee reports the police powers were to be devolved to the provincial councils.
"The central government should retain police powers," the MP said and warned that if there were to be a war in Sri Lanka in the future, it would be between the Army and and the Police in Northern Province.
He said the sub-committee report proposes to hand over ownership of the lands in the Northern Province to Chief Minister C.V. Wigneswaran who is currently on a mission to expel Sinhalese from the Northern Province.
"Giving powers to the provincial councils will mean supporting Mr. Wigneswaran. It is evident from his actions that he is racially motivated," the MP said.
Meanwhile, he invited patriots to refrain from voting for the proposed new constitution in a referendum. (Kalathma Jayawardhane)
Video by Sanjeewa