---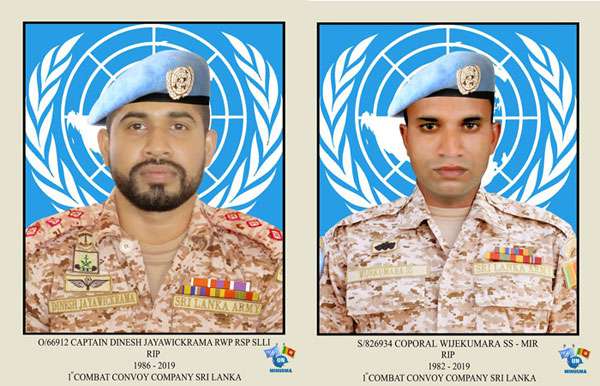 The remains of the two Sri Lankan Peacekeepers, Major Jayawickrama and Sergeant Wijekumara, who were killed in Mali, would be flown to Sri Lanka on Saturday, the Army said yesterday.
They said the UN flag-draped coffins are expected to reach BandaranaikeInternational Airport (BIA) on Saturday (Feb 2) at 3.10 pm.
The coffins will be accompanied by the MINUSMA Force Commander, Lt. Gen. Dennis Gyllisporre, with three more UN Officers of his office and to be formally delivered to Army Commander Lieutenant General Mahesh Senanayake.
The remains are to be formally received in a military parade graced by the Army Commander Senanayake, Maj. Gen. Devinda Perera, UN Resident Coordinator in Sri Lanka Ms. Hanaa Singer, Colonels of Regiments for Sri Lanka Light Infantry and Mechanised Infantry Regiments, Senior Officers, spouses and relatives of both war heroes.
After the Sri Lankan national flags drape the coffins, vigilant troops in the ceremonial parade will hand the UN flag back over to the visiting MINUSMA Force Commander, Lt. Gen. Dennis Gyllisporre.
Before the simple parade, the remains are to be sent to the Negombo Hospital for a postmortem, the Army said.
Military funerals for both fallen UN peacekeepers would take place at their respective hometowns, Polonnaruwa and Polpithigama.
Capt. H.W.D Jayawickrama and Cpl. S.S. Wijekumara were killed last week while performing their duties in the Keerana area when their WMZ convoy was attacked by a rebel group using an Improvised Explosive Device (IED).
They were later posthumously promoted to the rank of major and sergeant respectively on the recommendation of the Defence Ministry and the Army Commander. Three more Sri Lankan peacekeepers were injured in the attack.(Darshana Sanjeewa)