---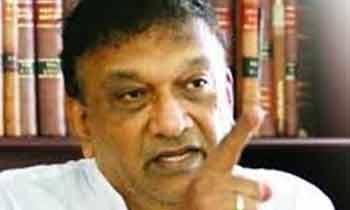 Certain media institutes were fabricating fake news and they would learn an unforgettable lesson after the February 10 elections, UNP Parliamentarian Minister Lakshman Kiriella said at a UNP meeting in Gurudeniya
"The UNP cannot be defeated by false propaganda and our victory of the election will prove it," he said.
"President Donald Trump could win the election despite false propaganda campaign carried out by 99 percent of American media. But Donald Trump explained to people about the false propaganda carried by the media using the term Fake News and he also won the presidential election," Kiriella said.
Minister Kiriella said if the media went beyond their limit of freedom they would learn a good lesson on February 10.
"The UNP will win all the local government institutes in the hill country and it was UNP voters in this area who mostly contributed for the victory of the President and the UNP victory at the last general elections.
"Even in 2005 when Mahinda Rajapaksa won most electorates in other parts of the country he could not win Kandy. This left Kandy being ignored by the last Government. The expressway allocated for Kandy was shifted to the Southern province," he said.
"Local government institutes capable of developing the area should be elected. This good governance government will continue definitely till 2015," he said.
Many UNP candidates were also present. (J.A. L. Jayasinghe)