---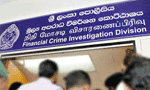 The Financial Crimes Investigation Division (FCID) today informed court that based on a complaint from the Former IGP, it had initiated an inquiry against Motor Traffic Commissioner General for allegedly acquiring public funds abusing his position and for fraudulent activities at the Motor Traffic Department.
The complaint had been lodged with the FCID on December 4, 2015 based on a news article published on a website, which had reported anonymously.
The prosecution conducts the investigation under the Public Property Act and Money Laundering Act.
The FCID's unit number one OIC Sunil Priyantha today reported to Colombo Additional Magistrate Nishantha Peiris over the complaint. (Shehan Chamika Silva)