---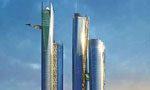 A team comprising the Financial Crimes Investigation Division and the Attorney General's Departments left for Singapore last week in connection with the investigations relating to the controversial Krrish Square mixed development project.
The FCID has commenced an investigation into the Krrish Square project that was initiated during the previous government.
The US$ 650 million Krrish Transworks Tower project was planning to construct four high-rises in the capital city of Colombo containing a luxury hotel, apartments, malls and office space on a 4.3 acre land leased for 99 years from the Sri Lanka's Urban Development Authority.
A source said the team led by Senior DIG of the FCID left for Singapore and they stayed three days for the investigations.
Earlier, the FCID had recorded statements from MP Namal Rajapaksa regarding a financial transaction with Indian real estate company 'Krrish Group' for a proposed housing and shopping complex in Colombo.