---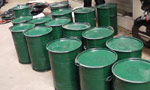 A supplier of explosives for manufacturing fireworks, who was illegally possessing over 800 kilos of Potassium Perchlorate which had been imported defying regulations of the Ministry of Defence was nabbed by Negombo Police this evening.
The police on information raided a warehouse in Negombo Town and found over 800 kilos of the powerful chemical which is being used as a material included in explosives.
Upon inquiry, the police learnt that the owner of the contraband did not possess a permit issued by the Ministry of Defence to import such material which is considered to be illegal to be used in the local fireworks manufacturing industry.
The police also found 25 kilos of Potassium Nitrate and 85 kilos of Potassium Chloride along with 16 barrels that contained 800 kilos of Potassium Perchlorate.
Moreover, the concern of the police was that the person had illegally stored these powerful chemicals amidst a heavily populated urbanized area in the centre of the Negombo Town, whereas he had been permitted to store his raw materials in Katana areas.
When contacted, Explosives Controller of Gampaha District V P Wijetunga said that Potassium Perchlorate has never been permitted to be imported to Sri Lanka nor used in the making of fireworks as it dangerously enhances the aftermath of any cracker or firework explosion.
He also said that if any accident leading to an explosion would have caused a major destruction in the Negombo Town, when the fireworks owner had defied orders to store them in a secure location away from an urbanized area. (Ranjith Ferdinand )
Video by Ranjith Ferdinand