---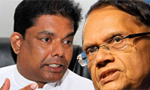 Cabinet spokesman and Minister Gayantha Karunatilaka today said Prof. G.L Peiris must be questioned over the utterances he had made to the media about alleged plans to bring the suicide jacket and explosives detected from a house at Chavakachcheri to Wellawatte.
Minister Karunatilaka told the weekly cabinet news briefing that Prof. Peiris apparently had vital information on this detection in advance and therefore, it was necessary to extract more information from him which would help the ongoing investigation on the detection.
Prof. Peiris on Wednesday told the media that the government was looking away while national security was under threat.
Defence Secretary Karunasena Hettiarachchi said the detection of a suicide jacket, explosives hand grenades and bullets was not a threat to national security as this kind of detections are made by the police and armed forces regularly.
However, Mr. Hettiarachchi regretted attempts by certain politicians and a section of the media's to portray it as a sign of re-emergence of separatist terrorism and a threat to the national security. (Sandun A Jayasekera)