---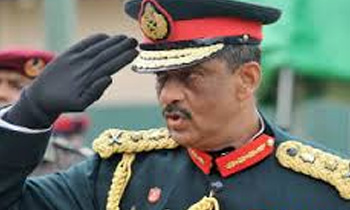 Field Marshal Sarath Fonseka, who had been offered a position with the responsibility to execute essential services in case they were disrupted, said today that he expected to fulfil the request made by the President.
Speaking to journalists at a New Year Festival held in Kelaniya, the minister said President Maithripala Sirisena instructed him to take responsibility in carrying out essential services when they were disrupted.
"The President made the request at the last Cabinet meeting and it was approved. I told at that moment a discussion is needed to draft a mechanism to implement this programme. I realize the intentions of the President and expect to fulfil them. I will put the country first," he said.
At the Cabinet meeting, the President had asked the Minister if he was ready to take over the army to which Minister Fonseka had said 'No.' He had again rejected when he was offered a post of a 'security division head' by the President.
"It is only then that the President invited me to take over the responsibility of carrying out duties when essential services were disrupted," Minister Fonseka said.
He also said trade unions should focus on the welfare of members without being henchmen of political elements with vested interests.
"The government will never suppress the rights of trade unions. We will carry out our responsibilities while protecting the country's democratic nature. We will not go for a military rule. There is no need to do so. There was such an administration in the past but we won't do such things," he said. (Lal S. Kumara)