---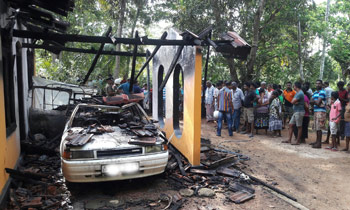 The charred body of a former Member of Pradeshiya Sabha was found inside a trishaw which was destroyed by fire along with another vehicle in front of a house at Palayvila, Unalla, Matara this morning, Kotavila Police said.
The deceased had been identified as former PS member Charles Ananda (48), a resident of Eduwa, Godagama who was a father of two children.
According to preliminary investigations the police learned that the trishaw had collided with a car which had been parked under the porch of a house in the area.
Police believe the collision had caused a fire that lead to the destruction of both vehicles on the spot. Due to the fire a part of the house was also damaged.
The police have found an exploded gas cylinder inside the trishaw as well.
A senior police officer said the investigations are conducted to ascertain whether the collision of the trishaw into the car would have triggered the gas cylinder to explode and subsequently cause the fire.
The police also found information about a clandestine relationship involving the incident and suspect whether it was an act of suicide.
Magisterial Inquiry was arranged regarding the deceased ex-Pradeshiya Sabha Member.
Further investigation are being conducted on the instruction of Senior DIG Souther Province F. Fernando and under the observation of ASP G. H. Marapana. (Krishan Jeevaka Jayaruk)