---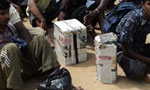 Fourteen ex-LTTE cadres, arrested on charges of criminal activities and later granted bail refused to undergo a period of rehabilitation when the case was taken up by the Colombo Additional Magistrate Aruni Artigala today.
TID officers told the Magistrate that rehabilitation was a means of concluding the cases against the suspects.
However Senior Counsel K. Ratnavel appearing for the suspects told the Magistrate that his clients were innocent and they did not wish to undergo rehabilitation.
He said if the prosecution insisted on sending them for rehabilitation his clients would face trial instead and prove their innocence.
The Magistrate observed that if the suspects did not wish to undergo rehabilitation the Court could not subject them for rehabilitation other than trying them for the charges.
He said if the suspects had agreed to undergo rehabilitation at the beginning of the case they would have completed their rehabilitation by now. (T. Farook Thajudeen)