---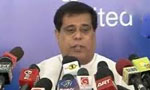 Minister Nimal Siripala de Silva said today that he would not join the United National Party (UNP), even if he were disgruntled with the Sri Lanka Freedom Party (SLFP).
While addressing the media briefing, he said that he contested the previous election representing the SLFP while being in the UPFA. The Central Committee of the SLFP took the decision to join the National Government.
"Later, I also joined the National Government. I joined the National Government not because of my own decision, but to obey to the policy decision taken by the SLFP Central Committee," the Minister said.
"Now, I am in the National Government but not betrayed the SLFP. I don't even dream of joining the UNP.
"Even if I die, I would die as an SLFP member, not as a UNP member," he said.
"Don't even think to topple the present Government during four and half years. Everyone should face the reality of the present Government, while keeping our main ambition to setup a new SLFP Government in 2020, without being breaking up into splinters. (Chaturanga Pradeep)