---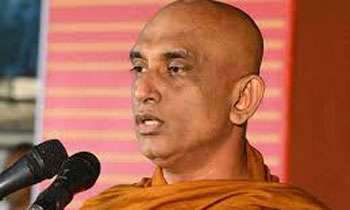 MP Athureliye Rathana Thera said that when he made inquiries from President Maithripala Sirisena on the ban on Glyphosate being lifted, he had been informed that he was not aware of such a move.
The Thera charged that only Minister Navin Dissanayake had confirmed the news on the ban and added the public does not know who to believe in this regard and that an important decision such as this cannot be taken without the concurrence of the President and his secretary and therefore it appears that the ban had not been lifted.
He further said a Presidential election or a general election should be called or in the alternative, an announcement should be made on permanent policy decisions covering the next two years instead of putting the people into difficulty".
The Thera made these remarks at the International Buddhist Forum organized by the Environmentally focused Sustainable Development Unity, held yesterday at "Sadaham Sevana".
He added "this is a government and individual needs do not matter here. There may be gains, but decisions should not be taken for personal gain.