---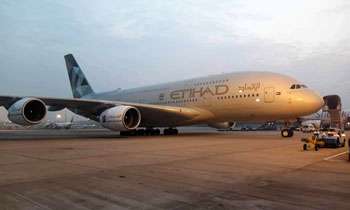 An Etihad Airways A-380 Airbus carried out an emergency landing at the Bandaranaike International Airport (BIA) this morning after a passenger had fallen ill, the airport duty manager said.
She said the 29-year-old Rumanian had suffered chest pain while the Airbus was passing over Sri Lanka's air space. The patient was handed over to the BIA medical team and later sent to a private hospital in Negombo for treatment, the duty manager said.
She said the Etihad Airways airbus E-454 was travelling to Abu Dhabi from Sydney. The aircraft was refuelled with 100,760 litres of jet fuel at a cost of Rs.9.7 million, Ceylon Petroleum Corporation's Ceypetco-Aviation officials said.
The aircraft delayed its departure time due to a technical error which had occurred during its landing. The passengers were sent to tourist hotels until the aircraft was repaired. (Chaturanga Samarawickrama and T.K.G. Kapila)