---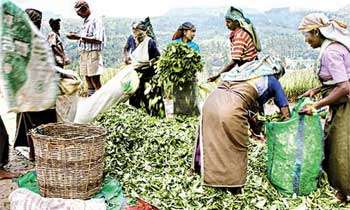 Prime Minister Ranil Wickremesinghe had agreed to delay the issuing of a gazette notification pertaining to increasing the daily wage of estate workers upto Rs. 700 to allow negotiations to continue on the issue until a solution is found.
This decision was taken at a meeting Mr. Wickremesinghe had with leaders of the Tamil Progressive Front, Plantations Minister Navin Dissanayake and Trade Union Relations Minister Ravindra Samaraweera at Temple Trees this evening.
Tamil Pregressive Front Member and Minister P. Digambaram told the Daily Mirror that the Prime Minister had agreed to delay the issuing of the gazette giving the new daily wage until February 5.
"This is an achievement as the delay will help us to negotiate further and see to it that the daily wage of an estate worker is increased up Rs. 1000," Mr. Digambaram said. (Yohan Perera)