---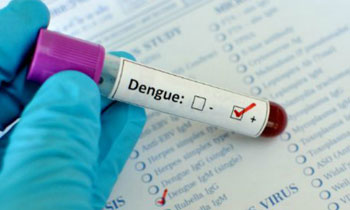 Following a request made by the President Maithripala Sirisena during a discussion held on Saturday (17) Laboratory Officers have initiated a programme where most essential tests for dengue patients such as Full Blood Count (FBC), Dengue Antigen or Antibody tests will be carried out within a very short period of time in order to make sure that the ever increasing number of dengue patients get treated on time. This programme will come into effect from Wednesday (21) a statement issued by the Sri Lanka Society for Medical Laboratory Science (SMLS) today said.
SLMS President Ravi Kumudesh said the recent dengue outbreak differs from what they experienced previously as the dengue mosquito 'Aedes aegypti' characteristic adjustments has changed the symptoms of disease.
He said previously FBC test was performed after 3 days where they mainly check the platelet count of the patient as the platelets gradually decrease, however, during the recent outbreak in most cases Laboratory Officers identified the platelet count descends rapidly within two days.
"It has become a huge burden to the hospitals to treat these Dengue patients with the limited facilities available. Following the President's intervention we decided to establish a separate laboratory in each hospital located in areas where the dengue epidemic exists," he said.
Further he said the Infectious Disease Hospital (IDH) and the Negombo District General Hospital had been inundated with dengue patients. "These hospitals are overcrowded already. In these hospitals there are more dengue patients than hospital beds. So it is clearly an epidemic situation in those areas. So far we don't have the necessary personnel and equipment to face this grave situation. However we will carry out our task continuously until the situation improves," he said.
According to the programme Mr. Kumudesh said the patient would be sent for a FBC test before he was channelled to a doctor - making it that much easier for the doctor to determine whether that particular patient should be admitted to a hospital or not. (Thilanka Kanakarathna)