---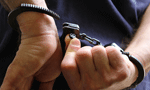 The Colombo Crimes Division and the Mirihana police are investigating the escape of the seven Indian nationals who arrested in connection with the kidney transplant racket, police said.
Police said the suspects had escaped from the Mirihana detention center on November 8.
Investigations are yet to reveal how five of the seven racketeers escaped on August 5 while the remaining two racketeers had escaped on October 27.