---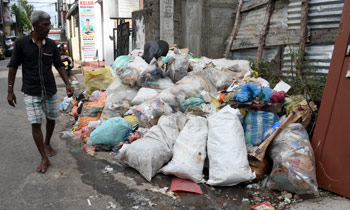 The Colombo Municipality together with the Army and environmental police will police the city after dark in a bid to arrest errant individuals dumping garbage within the Colombo city limits.
The programme which was launched last night was a knee-jerk reaction to individuals dumping large bags of garbage inside the city during the night.
Colombo Municipality Commissioner V. K. A Anura speaking to the Daily Mirror said the garbage was not segregated and often brought into the city from the suburbs.
"These piles of garbage are not segregated and since local government authorities no longer collect garbage that are not segregated, those who don't segregate their waste dump it in Colombo at night," he said.
The recent occurrence saw large piles of garbage across the city with the CMC forced to clean up at least 200 metric tonnes a day.
"We collected at least 750 tonnes of garbage from roadsides this week. We are certain the garbage is not produced from residential areas in Colombo as most of the waste we collected had come from large production facilities such as farms," Mr. Anura added.
When questioned as to why individuals would want to dump garbage in the streets of Colombo after dark, Anura explained that the CMC was the only local government authority to completely clear streets of garbage. "They know we will clear it all, which is why they dump their garbage in the city after dark," he said. (Nabeela Hussain)