---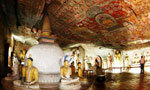 The UNESCO organization today said it had entered into a dialogue with the authorities in Sri Lanka in connection with the conservation of the Dambulla Temple.
Issuing a statement, the Office of the UNESCO Director-General Irina Bokova said she had made reference to a Reactive Monitoring Mission dispatched by ICOMOS, an Advisory Body for cultural properties in March 2015, to assess this question.
"As a result, a number of recommendations were put forth in order to improve the conservation and management of the site. During the news briefing held in Colombo on Wednesday (17), Bokova emphasized that UNESCO was committed to working with the government to implement these recommendations. The Organization stands ready to support the government through capacity building and technical support as recommended by the Mission," the statement by the Office said.
It said no reference was made to de-listing the Dambulla Temple as a World Heritage Site during the news briefing.