---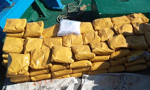 The countries, of the 14 suspects who were arrested while attempting to smuggle 101 kg of heroin into Sri Lanka, have been informed of their capture, the Police said.
The Police Tourist Division had informed the relevant embassies in Colombo.
The Sri Lanka Navy and the Police Narcotic Bureau(PNB) in a joint operation carried out in the sea off southern Sri Lanka on Wednesday seized the largest ever heroin haul being smuggled via boats.
A multi day trawler owned by the smugglers, a Pakistani and 10 Iranian nationals who were arrested, was seized in the raid. Police arrested three more suspects in Negombo.
The Navy said the drug dealers from Pakistan and Afghanistan were engaged in large scale drug trafficking in collaboration with local drug dealers.
Further, it was revealed that consignments of drugs are transported by vessels owned by foreigners to Sri Lankan waters and brought ashore by multi-day fishing trawlers, which are disguised as fishing trawlers. Subsequently, the stock is transferred to Colombo via the Southern Expressway.
Police said the suspects will be detained for questioning for seven days and that they were produced at the Colombo Fort magistrate yesterday.(Darshana Sanjeewa)