---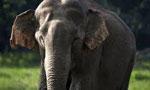 A female elephant aged about six years was taken into custody by the Wildlife officers this morning at the Kataragama temple area, Police said.
The raid was conducted after receiving a court order by the Criminal Investigation Division (CID) and the wild life officers over information received by them.
Police said that information that an elephant was seen abandoned in the area after the Perahera festival was given to CID.
The wildlife records indicated the elephant was registered under No.333 in the wild life records under the name 'Samadhi'.
Meanwhile, the police said that they have received information about the elephant, that it is suspected that she belongs to Nirad Roshan alias 'Ali Roshan'. (Nandasena-Kataragama)