---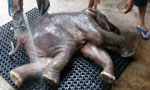 The four-month-old female elephant, who made the news after it was rescued from an uncovered drain situated close to the entrance to the Hambantota Port, is recovering well from an injury to one of its legs, Udawalawa Elephant Transit Home's Veterinary Surgeon Dr. Vijitha Perera said yesterday.
He said elephant calves were usually kept at the elephant transit home for about five years before they were released to the wild following rehabilitation.
However, in this particular case, they had decided to release the baby calf as soon as it fully recovered since her mother would be roaming the area in search of her.
Meanwhile officials from the Department of Wildlife said they were looking for the elephant herd to which the calf that was injured belonged in order to release her to them when it had fully recovered.
Wildlife officials said that the human-elephant conflict in Hambantota had aggravated as the forest cover which provides shelter to the elephants was fast diminishing as man engaged in an aggressive development drive in the area."There is a risk to homes and human lives as a result of this conflict," they said.
The elephant calf was rescued by Wildlife officials amidst protests from the calf's mother, in a 5-hour-long rescue operation on Sunday (29). She was brought to the Transit Home with a broken leg and was being treated. (Roshan Gunasekara)
Video by Roshan Gunasekera