---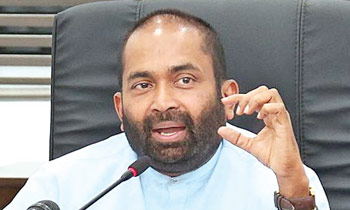 Power and Renewable Energy Minister Ranjith Siyambalapitiya has instructed the Ceylon Electricity Board (CEB) to supply electricity free of charge for six months to consumers in flood and landslide-affected areas.
This facility will also be extended to flood and landslide victims who have been provided temporary shelters.
The minister told the media that an initial survey conducted by the CEB has found that 177,775 consumers were without power as of Thursday. In certain areas the power supply was disconnected to prevent further damage to power equipment while in some of the other areas those affected were asked to knock off the power supply to their flooded houses to prevent any possible short-circuiting due to the leakage of water. Some 28.4% of the consumers were were without power.
"However, the CEB engineers and technical crew are ready to reach areas where power is not available soon as they get an opportunity to do so," the minister said.
He told journalists that a 'Rapid Power Restoration Unit' headed by an electrical engineer has been deployed at all substations round the clock in all flood and landslide-affected districts to restore the power supply as early as possible.
The minister said a large number of CEB offices and substations went under several feet of water with those in Galle and Matara being the most affected. In the Southern Province some 253,130 power connections had been discontinued by Thursday.
He said his ministry had taken a decision to do away with the issuance of permits for mini hydro projects unless forest cover was included in the project plan.
Affected consumers can contact the CEB on, 011 3030303. (Sandun A Jayasekera)