---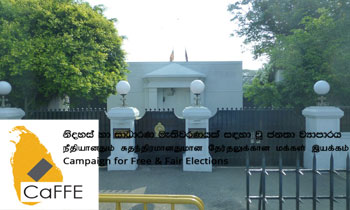 The Campaign for Free and Fair Elections (CaFFE) today requested the Prime Minister's Secretary not to allow Temple Trees to be used for election propaganda work.
It said this in the wake of an event where the education ministry distributed mobile lab kits to school principals on Thursday.
In a statement CaFFE accused the 'Good Governance' administration of using Temple Trees, which is the Prime Minister's office for election propaganda purposes and said the former Rajapaksa administration also did this.
The Ceylon Teachers Union (CTU) alleged that the Education ministry had distributed mobile lab kits at Temple Trees with the participation of Prime Minister Ranil Wickremesinghe and and Education Minister Akila Viraj Kariyawasam.
CaFFE said the event was organised by Director of Education (Science), M.P. Vipulasena and that some 3,000 people had participated.
It said even the Rajapaksa administration had misused Temple Trees by hosting events in blatant violation of election laws and the abuse of state resources.
CaFFE said the present administration was also following the example set by the previous administration.
"It is saddening to see that state officials have not learned a lesson from what befell Lalith Weeratunga and Anusha Palpita," it said. (Thilanka Kanakarathna)