---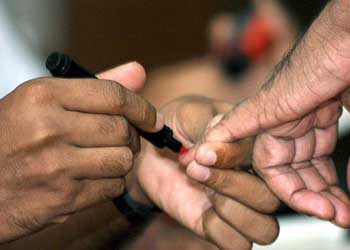 Election monitoring organisations today warned the Government that they would seek stern legal action if the Government failed to pass the proposed amendments to the Elections Act, which would delay Local Government elections further.
Addressing a press briefing the 'March-12 Movement', a voluntary organisation consisting of representatives from election monitoring organisations, civil society groups and trade unions charged that following the mutual consensus of all political parties the LG elections were delayed for four years.
While expressing their displeasure to the Government for violating the people's voting right, Manjula Gajanayaka of the Centre for Monitoring Election Violence (CMEV) said commencing the elections in a timely manner was the cornerstone of Good Governance that people expected after 2015.
"The electoral term of the Batticaloa Municipal Council was the first to end, which was around four years ago. Subsequently, the electoral terms of numerous other Local Government institutions too concluded.
"If nothing happens in the coming two weeks the Elections Commissioner will receive the full authority to hold the election in North Central, Sabaragamuwa and Eastern Provinces," he said.
Meanwhile, PAFFREL Director Rohana Hettiarachchi said election monitoring organisations feared the delay of LG polls, citing the debate for the amendments of the new Elections Act.
"The Act is to be debated in House on 24 and voted on September 6. If this was not passed the election would be further delayed. Moreover, the Government is also attempting to reduce the 25 percent female representation quota. We are totally against such a move," he said.
Further, the movement said the two delimitation reports, which were prepared in order to implement this mixed system of elections, while the first report was flawed and the second report was delayed, became the decisive factors that affected the delay in holding the elections.
"Although such was the reasoning for the said delay, the point that warrants further contemplation is attributed to the fact that on which day, would be the Local Government elections, which should empower the closest institutions to the general public, be held," it said.
Further, it said that a continual postponement would not be palatable for the general public, regardless of what is set out in the Constitution.
"Amidst the delay, the immediate task at hand is the passing of the proposed draft amendments to the Act that has already been presented to Parliament," it said. (Thilanka Kanakarathna)