---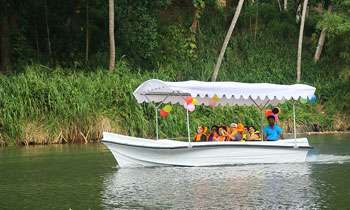 Eight out of nine Arab nationals, along with the boatman, was rescued from drowning in the Mahaweli River. The Kandy Police said the boat carrying nine tourists along with the boatman had capsized in the river at Guhagoda in Katugastota this evening.
However, the police have initiated investigations to find the missing tourist who, as described by the boaters, is a 23-year-old female.
Police said the tourists including two females and six males sustained minor injuries. Arrangements were made for them to stay in a hotel at Peradeniya.
Members of the Kandy Municipal Fire Brigade and divers from the Thalathuoya Navy Camp rushed to the scene on the instructions of Thalathuoya OIC Inspector Aruna Krishantha and Katugastota OIC Inspector Jayantha Samarakoon. (J.A.L. Jayasinghe, Dhammika Gunawardena and Chandana Uduwala)
Video by Chandana Uduwaawala