---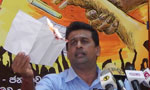 The eight former local authorities' heads, facing disciplinary inquiries by the Sri Lanka Freedom Party (SLF), said they would defy the party's instructions.
Addressing a group press briefing, they were again critical of the present SLFP leadership.
"Someone who acted with the United National Party (UNP) to defeat our candidate at the election is now calling for explanations from us. Explanations have to be called for those who acted with the UNP, not from us," Former Chairman of Walallawita Pradeshiya Sabha Udeni Atukorale said.
He said, "We learnt that the SLFP Central Committee has decided to initiate disciplinary inquiries against us. Explanations have been called from us. Before conducting such inquiries against us, explanation has to be called from the General Secretary who served in the party before January 8, 2015. The former General Secretary and the present General Secretary both quit the party and teamed up with the UNP to defeat the party."
He said none of these eight members had betrayed the party. He accused party seniors Nimal Siripala de Silva, Dilan Perera and others of conspiring against former President Mahinda Rajapaksa to entrust the party chairmanship with President Maitripala Sirisena. (Muditha Dayananda)
Video by Sanjeewa