---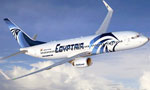 Egypt's military said its search teams found wreckage today from the EgyptAir plane that crashed in the Mediterranean with 66 people on board.
"Egyptian aircraft and navy vessels have found personal belongings of passengers and parts of the wreckage 290 kilometres (180 miles) north of Alexandria," its spokesman said on his Facebook page.
Search teams scoured the Mediterranean today for the remains of an EgyptAir plane which crashed with 66 people on board, as mystery surrounded its fate despite suspicions of terrorism.
Egypt's aviation minister had said that a "terrorist attack" was a more likely cause than technical failure for the Airbus A320's sudden disappearance from radar screens on a flight from Paris to Cairo.
An Egyptian government official said the search was ongoing after debris found off a Greek island turned out to be unrelated to the crashed plane. (AFP)