---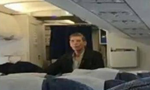 An EgyptAir flight which was diverted and forced to land in Cyprus was reportedly hijacked by a man who wanted to deliver a letter to a woman, who may or may not be his ex-wife.
According to the Guardian, the Lebanese hijacker has demanded political asylum and threw a letter from the plane addressed to his ex-wife who lives in Cyprus.
The EgyptAir domestic flight from Alexandria to Cairo was hijacked today and landed in Cyprus.
The Cyprus Broadcasting Corporation reported that 55 people are on board, with a crew of 7. There were earlier reports of about 80 to 81 people on board.