---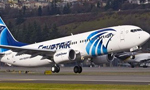 An EgyptAir passenger plane heading from Alexandria to Cairo carrying 82 passengers was hijacked and forced to head to Cyprus, civil aviation sources and police said.
One man is thought to be armed on board the plane, Cyprus state radio reported.
The hijackers demanded that the flight land at Larnaca Airport, said a spokeswoman for EgyptAir, who asked not to be identified in line with company policy.