---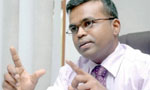 The proposed 'Electronic Media Authority' (EMA) is meant only to regularize the functions and operation of the electronic media keeping abreast with the latest trends, and not to suppress media freedom, Deputy Mass Media and Parliamentary Affairs Minister Karunaratne Paranawitana said.
The Deputy Minister said the proposed EMA did not intend to restrict the freedom or monitor electronic media institutions but regularize their functions and operation to suit the modern day needs.
"We have a Press Council and the Press Institute to monitor print media or entertain complaints against the print media institutions like in any other country. The other purpose is to introduce most modern and up to date technology to the local electronic media to keep breast with the global trends in the field," Deputy Minister Paranawithana stressed and added the government did not want to take any action to affect the media freedom.
Mr. Paranawithana said the necessary laws would be presented in Parliament to establish the EMA after consulting all stakeholders to the electronic media including the entire media and the print media in particular, print media operators, the public, political parties, social organizations and professionals.
Meanwhile, President Maithripala Sirisena told electronic media magnates that the electronic media institutions must always give the truth to their viewers and listeners and not distort, sensationalize or exaggerate information.
"You must always keep in your mind that the frequencies allocated to you by the government are the assets of the people. Therefore, it is your responsibility to use your frequencies for the benefit of the people and the country through disseminating correct and useful information in a responsible manner," President Sirisena emphasized.
President Sirisena expressed his disapproval and regret over the violation of the law and guidelines issued to electronic media institutions when using of their frequencies.
President Sirisena instructed Telecommunication Regulatory Commission (TRCSL) officials to introduce amendments to the TRCSL Act to give more legal teeth to the Commission to prevent misuse of frequencies given to electronic media institutions and added the it was the responsibility of all media institutions to use the new media freedom for the betterment of the public, the nation and the country. (Sandun A Jayasekera)