---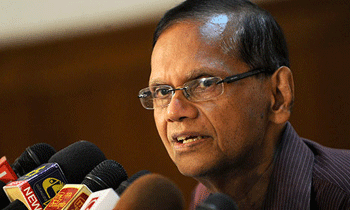 The Elections Commission (EC) should announce it stance in relevance with the government's move to delay the Provincial Council Elections and the PC Election Amendment Bill which was passed on Wednesday with the two third majority in parliament, Sri Lanka Podujana Peramuna (SLPP) Leader Prof. G. L. Peiris said yesterday.
Addressing a news conference, he said that it was questionable as to why the PC was still reluctant to come out with a specific clarification over the incidents occurring which were applicable to EC.
"It is obvious that the main reason as to why the government tends to postpone the elections is they know exactly that they would definitely defeat at the PC polls. Therefore, they have no intention of accelerating the process to hold the elections and at the end of the day it is the franchise of the people which is being deprived," Prof. Peiris stressed.
Meanwhile, leader of the Lanka Sama Samaja Party (LSSP) Prof. Tissa Vitharana said that the way the incumbent government was moving signified that it was heading towards dictatorship.
"This corrupt government has not practised democracy right throughout their governance but has shown predetermines that it would be sailing towards a despotic system of government," he said. (Sheain Fernandopulle)
Video by Susantha