---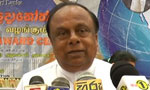 Dual citizenship certificates have been given to 14,000 people who left the country due to various reasons, North Western Development and Cultural Affairs Minister S.B. Navinna said.
He said they had previously granted 12,000 certificates apart from the 1,700 certificates which were given yesterday.
The ceremony to hand over certificates which was organised by the Internal Affairs, Wayamba Development and Cultural Affairs Ministry and the Department of Immigration and Emigration was held at the Bandaranaike Memorial International Conference Hall (BMICH) yesterday.
The concept of issuing dual citizenship certificates was introduced in 1987 and about 45,000 certificates had been issued since then, the Minister Navinna said.
"The people who were granted dual citizenship certificates are entitled to all rights in the country except contesting elections. They cannot contest any election but they can vote if their names are in the voting list," he said.
The rights for contesting elections were barred from the 19th Amendment, he said.
The new system to issue dual citizenship certificates came into place following the 2015 presidential election.
Dual citizenship certificates had been given on seven previous occasions. Since then dual citizenship certificates were given to the people who have citizenships in the United States, United Kingdom, Canada, France, Italy, Australia, Switzerland, New Zealand, Sweden and several other countries. (Chaturanga Pradeep and Indika Sri Aravinda)
Video by Indika Sri Aravinda