---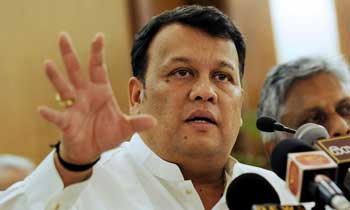 If there are any parliamentarians who are dual citizens, they should not only be barred from Parliament, stripped of their parliamentary privileges and asked to pay compensation but should also be sent to jail, Ports and Shipping Minister Mahinda Samarasinghe said yesterday.
He told the weekly SLFP news briefing that the country's apex court has given a clear ruling on dual citizenship and as such no parliamentarian with dual citizenship has the right to sit in the House anymore.
"The law must be amended to send parliamentarians with dual citizenship to jail in addition to disqualifying them from sitting in Parliament and being stripped of their parliamentary privileges," the minister said and added he had never obtained dual citizenship as suggested by some media institutions.
Meanwhile, the Peoples Action for Free and Fair Election (PAFFREL) in a letter to Speaker Karu Jayasuriya requested that an affidavit be obtained from every parliamentarian confirming that he or she was not a dual citizen.
PAFFREL Executive Director Rohana Hettiarachchi said in his letter that there was a suspicion among the people that several MPs were dual citizens.
"We checked with the Controller of Emigration and Immigration whether any of the MPs are dual citizens. The Controller informed us that there were no parliamentarians holding a dual citizenship other than the former MP Geetha Kumarasinghe who lost her seat after the recent Supreme Court ruling. But we are not satisfied with that information and we urge the Speaker to urge all 225 parliamentarians to certify that none of them are dual citizens so as to dispel the doubts of the people," he said. (Sandun A. Jayasekera)